Upcoming Events
**Want to view the below webinar that was held on April 20th?  Click HERE and enjoy!  If it asks for a passcode, please use:

3gx&HYl#.
Western Wildlife Conservancy is pleased to invite you to a free a Zoom webinar. 
When:
 Apr 20, 2021 06:00 PM Mountain Time (US and Canada)
Topic: Zoominar by Dr. David Stoner; "Surfing the concrete wave: Cougar response to urban expansion"
Suppose the motion-activated floodlights in your backyard go on. You look out the window and see a deer. What are the odds that there is a mountain lion in your backyard too? Is it safe to go have a look?
Many people live on the wildland-urban interface, but don't know how their presence affects our native wildlife, and the interactions between predators and prey. Learn more about your wild neighbors and how to live safely with them by attending this fascinating zoom presentation by Dr. David Stoner with Utah State University

Please register in advance for this webinar:
https://us02web.zoom.us/webinar/register/WN_XjzVRTeURHmXFWXP1eGPIw
After registering, you will receive a confirmation email containing all you need to join the webinar on the 20th.
———-
Dr. David Stoner (Research Assistant Professor in the Dept. of Wildland Resources @Utah State University) originally hailed from California where he worked for the United States Geological Survey, California Fish and Game, and the U.S. Forest Service. Today at Utah State University, David conducts applied ecological research on terrestrial ecosystems at landscape scales. David has frequently worked with the Utah Division of Wildlife Resources, including studying cougar movement and foraging patterns as well as conducting population estimates of this species in Utah. See David's website: https://qcnr.usu.edu/directory/stoner_david  
This zoominar is brought to you by Western Wildlife Conservancy, which 
works to preserve and protect native wildlife species through research, education, and advocacy with a focus on the needs of large carnivores.
---
Free Wolf School!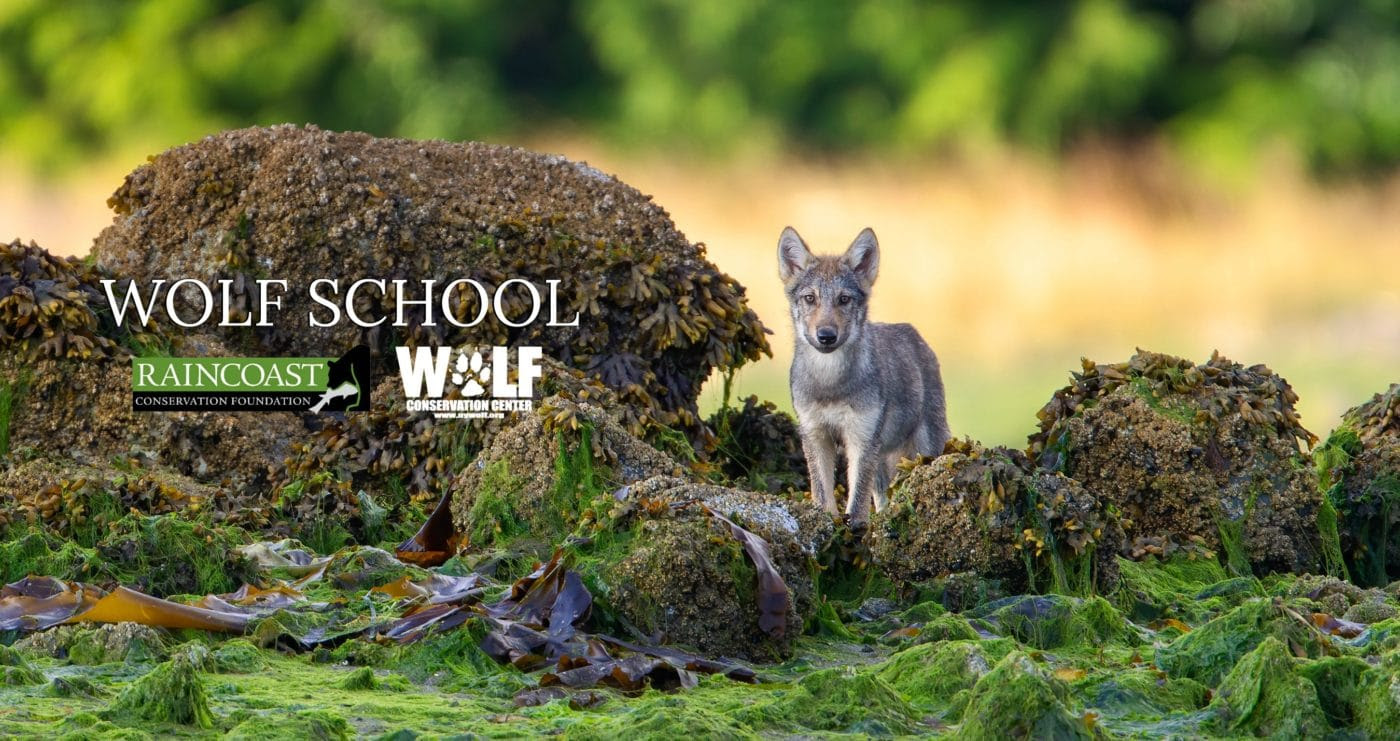 Wolf School is your opportunity to deepen your understanding of wolves, wolf ecology, biology and the issues they face for their survival in British Columbia and around the world. Designed by Raincoast Conservation Foundation, the program aims to broaden the public's understanding of wolves, especially the wild population of wolves in British Columbia. Over the course of six live webinars you'll be invited to hear from and pose questions to a range of experts from various backgrounds.
The first class was tonight but each session will be recorded and posted so you can see them all no matter your schedule! A big thank you to the Wolf Conservation Center and the Raincoast Conservation Foundation for putting this on!
Learn more and register at: https://nywolf.org/wolf-school/
---
Author Series – Rick McIntyre: The Rise of Wolf 8
When: October 26, 2019
Where: Sundance Resort – Tree Room; 8841 North Alpine Loop, Sundance, UT 84604
Website: https://www.sundanceresort.com/calendar/event/author-series-rick-mcintyre-the-rise-of-wolf-8/
There are no upcoming events to display at this time.