Current Campaigns & Activities
House votes to ban introduction of wolves in Utah
Move comes amid some howls on the Hill
By Amy Joi O'Donoghue@Amyjoi16 Feb 28, 2020, 3:06pm MST
DeseretNews
SALT LAKE CITY — Amid a few playful wolf howls by legislators, the Utah House of Representatives voted 54-13 on Friday to approve a resolution prohibiting the "artificial" introduction of the predator into Utah.
HCR19, sponsored by Rep. Logan Wilde, R-Croydon, makes clear Utah does not want wolves and does not want to go the way of its neighbor, Colorado, which has a voter initiative later this year on the ballot for the introduction of wolves into the state.
"What Colorado is doing will have impacts on us in this state," said Rep. Casey Snider, R-Paradise, who said he strongly supports the resolution and is in "stark opposition" to the Colorado initiative.
Wilde said it is important to leave the management of species to the Utah Division of Wildlife Resources, which monitors big game populations and other animals in a comprehensive wildlife plan.
"The concerns we have is every time someone introduces something artificially without science behind it … we end up having to go in and declare that an invasive species," Wilde said.
There are no documented cases of wolves presently in Utah.
Wilde said there are populations of the Mexican gray wolf south of Utah and the Rocky Mountain wolf north of the state, which serves as a buffer zone.
"What science has added is that if these two wolves start to co-mingle, breed together there will be a hybrid come out of this," Wilde said.
Rep. Cory Maloy, R-Lehi, had concerns over the resolution.
"I am not sure I feel comfortable restricting the natural wolf (that) would be in this state or this area," Maloy said.
The measure now moves to the Utah Senate.
---
URGENT – Please Read!
There is a piece of legislation (HB 125) that is making its way through the approval process. We need your help to stop it! The legislation is flawed and just plain awful. Please go to the Utah Legislature website to find your senator and email them: https://senate.utah.gov/senate-roster/. It will only take a moment of your time and it could very well save the innocent lives of so many animals who have no voice. Be part of the difference!
What follows is some information on HB 125 and why it is flawed.
Premise 1. The language of HB 125 does not merely give the Director of the Division of Wildlife Resources (DWR) "more tools" for responding to below-objective ungulate herds as the bill's supporters claim; to the contrary, it mandates that he or she take immediate action to instigate the killing of predators (bears, cougars, and coyotes) whenever an ungulate herd is below objective. Thus, the legislation eliminates the need for professional judgment on the part of the Director and, in effect, directs him or her. But who is going to direct the director, and for what purpose? Might it be overbearing sportsmen organizations such as Sportsmen for Fish and Wildlife, because they think it will maximize the number of big game animals for hunting?
Premise 2. Under HB 125, the only way the Director can avoid taking action to kill predators when ungulate herds are below objective is when DWR can PROVE that predators did not contribute to a herd being below objective. However, it is obvious that so long as there are predators around it will necessarily be impossible to prove that they have no causal influence on ungulate herd sizes. Why? Because they eat ungulates! Similarly, it will be impossible to prove that precipitation has no causal influence on herd sizes because ungulates eat plants and plant growth is dependent upon water. And this must be true no matter the size of a herd regardless of whether it is below objective, at the objective, or even above objective! It will always be impossible to determine the precise extent to which predators contribute to the size of a herd because there are always numerous additional factors in play as well, including precipitation, wildfire, disease, automobile collisions, hunting, poaching, etc. – factors that vary in largely unpredictable ways from month-to-month and year-to-year.
Conclusion. Points 1 & 2 entail this conclusion: The Director of the Division of Wildlife Resources must instigate increased killing of bears, cougars, and coyotes on a hunting unit whenever an ungulate herd is below objective.
Now for the coup de grace: There can be no non-arbitrary method of setting herd population objectives. In other words, ungulate herd population objectives are aspirational – they are whatever DWR thinks can be achieved by manipulating features of the habitat (e.g., through pinyon-juniper removal), by manipulating predator and prey populations that use the habitat through hunting, and given certain assumptions about climate, weather, and diseases such as chronic wasting disease, etc.
Think of it this way: If the controlling powers want more deer to hunt, all they need to do is insist on bigger herd size objectives. Under HB 125 this yields the potential for a perpetual escalation of the war on cougars, bears, and coyotes.
And think of this too: No consideration at all need be given to the negative impacts to the land, the plants, the waterways, other species of animal, or to the health of ecosystems that such a practice will surely cause. The core ideas underlying HB 125 are (1) the highest good is a maximum number of ungulates for hunters to kill, and (2) reducing the number of predators will inevitably result in more ungulates and no problems. This the very same fallacy that Aldo Leopold bought into in his youth, which he later admitted was a mistake, and that led to massive herd die-offs on the Kaibab Plateau and resulting very severe habitat destruction.
---
Gray wolves, once nearly extinct, could be coming back to Colorado
Conservationists are applauding a ballot measure to reintroduce the gray wolf to the state. But ranchers and hunters are putting up a fight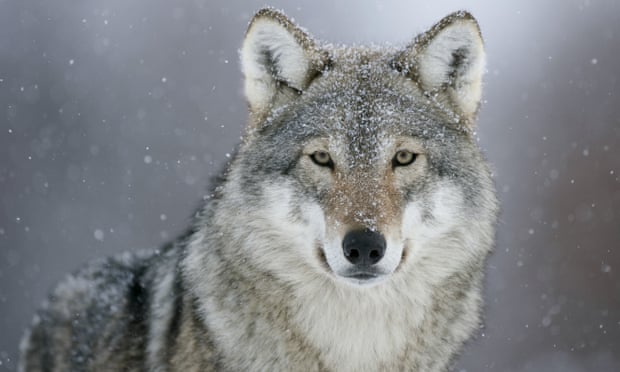 The gray wolf, once numbering in the tens of thousands throughout North America, have faced public vilification and extermination programs that drove it to near extinction in the US. Now Colorado will vote on whether to reintroduce them into the wild after an 80-year absence, thanks to an effort that has cattle ranchers outraged but which conservationists say could restore an ecosystem that has long suffered without the apex predator.
The species was systematically exterminated by controversial, US government-backed programs in the 19th and 20th centuries. This was primarily due to wolves' attacks on the cattle, a booming industry that has been integral to the expanding west economy. By 1940, wolves were almost completely gone.
Their inclusion on the 1973 Endangered Species Act, along with a 1995 effort to build a home for them in Yellowstone national park, has helped bring their numbers back up to 5,500 in the lower 48 states.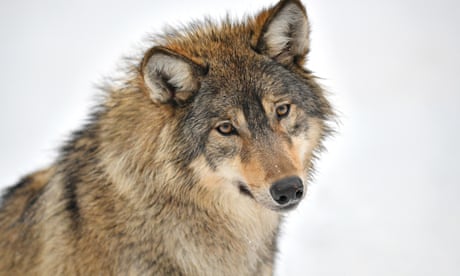 This year, a ballot measure in Colorado will let voters decide whether a home should be built for the gray wolf in the state. Polling indicates the measure is likely to pass, though segments of both the ranching and hunting communities are strongly opposed.
Conservationists argue that eradication of wolves threw the ecology of the Rocky Mountains into disarray, with elk and deer excessively grazing in open lands where they otherwise would have been targets for wolves, created a domino effect that has harmed a variety of species.
'Ecological engines'
Colorado's vote comes at a time when safeguards for gray wolves are threatened: the Trump administration announced last year intentions to remove the animals from the endangered species list.
"Gray wolves are the ecological engines of the northern hemisphere," says Rob Edward, president of the Rocky Mountain Wolf Action Fund, who spearheaded the ballot measure and has been working to reintroduce wolves into Colorado for over 25 years. He points to the successes of the Yellowstone reintroduction as evidence that similar efforts would be good for Colorado's environment.
"The Aspen groves, which hadn't regenerated in 50 years, were totally coming back" as a result of wolves returning, he says. "And with that regeneration came more beavers, which led to more beaver dams, which was good for the rivers, which led to more trout, and on and on with a cascading effect."
He adds that wolves also benefit the landscape by forcing elk to move around. When the elk aren't hunted, they "can hang out in river bottoms, which causes mass erosion, and the water gets shallower and hotter", he explains.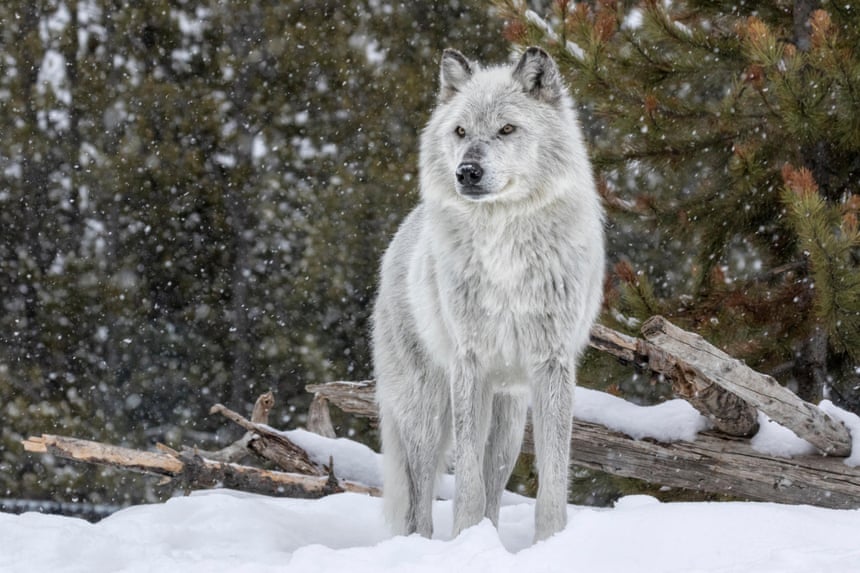 Rancher opposition
Edward points out that the measure safeguards ranchers against losses by offering compensation for any wolves that kill their livestock, but Terry Fankhauser, executive vice-president of the 153-year-old Colorado Cattlemen's Association – which represents the 11,600 cattle farms and $2.8bn industry in the state – believes the matter is more complex than just wolves killing cattle.
"Beyond the kills, there are indirect impacts of wolves being reintroduced to cattle," Fankhauser says. "Cattle are fight-or-flight animals and they're continually on the lookout for predators. And when there's reintroduction of wolves, there's a decrease in gestation, pregnancy, and weight gain, much like elk, deer and moose."
Potential disruption of wild animals is also a concern for opponents of the ballot measure, who advocate on behalf of hunters who don't want to see their game disappear. Preserving targets for hunters was also the motive behind the controversial, government-sponsored practice of shooting wolves in Alaska from helicopters. Sarah Palin's endorsement of the practice was fuel for attack ads when the then governor ran for vice-president in 2008.
The proposed measure would call for the Colorado parks and wildlife commission to construct a plan – building on scientific data and concerns from public hearings – to reintroduce wolves into public lands by the end of 2023. The Rocky Mountain Wolf Action Fund would like to see enough wolves introduced to return balance to the ecology, with the additional aim of creating a habitat that links the wolves of northern states (along with Canada) and southern states (along with Mexico) stretching the length of the Rocky Mountains.
Fankhauser is concerned that the ballot measure will tie the hands of those tasked with reintroducing the wolves to Colorado, forcing them into blunt action where a nuanced approach is needed.
"We should not be making biological decisions at the ballot box," he says. "And to arbitrarily decide, through a population vote, that we need x amount of wolves in Colorado without considering that ecosystem, it's not only irresponsible to the ranching community, but to the wolves themselves."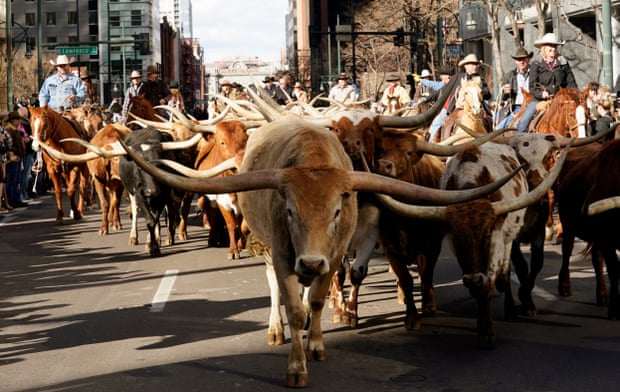 Rehabilitating the wolf's image
The Colorado Stop the Wolf Coalition, another opposition group that describes itself as a group of "concerned sportsmen, farmers, ranchers and businesses", has been playing up fears that wolves could be a danger to humans. Its homepage cites a story from last summer about a family of campers in Canada being attacked by a wolf, which has the potential to make the millions who enjoy camping in Colorado's Rocky Mountains a little anxious.
Edward finds the suggestion wolves pose a threat to humans wildly misleading. (The Colorado Stop the Wolf Coalition did not respond to multiple requests for comment.)
They're curious about us, like their descendants, the dogs
"That is a one-off rarity," he says. "Millions of people have camped in Yellowstone since wolves were reintroduced, and there has never been an attack. Wolves do not see humans as prey. They're curious about us, like their descendants, the dogs."
A poll commissioned on behalf of Edward's campaign showed that two-thirds of likely voters said they were in favor of the wolf reintroduction, with only 15% opposed. The poll showed no divide between rural and urban voters, which is noteworthy considering how large the cattle industry looms in the Colorado economy and culture.
Meanwhile, supporters of the gray wolf have been working to overhaul its fearsome image. A Denver-based musical collective, Lost Walks, wrote and performed a rock opera about a wolf who saves a pregnant woman in danger in the Colorado wilderness.
"It felt important to us to use our voices for a creature who is voiceless," says Jen GaNun, the band's creative director. "When we found out about how wolves were and are hunted and treated today, we felt like we had to use our internal momentum in this project we started to be a part of a social and environmental movement."
Profits from the album have gone toward the Rocky Mountain Wolf Action Fund, and live events have doubled as signature collection opportunities for the ballot measure.
"We have gotten some messages of opposition," she says, "but mostly find that people are in support and on the side of science and kindness towards animals and the greater ecosystem."
---
The wolves aren't waiting for Colorado voters
Thomas Phippen – January 15, 2020 – Post Independent
Over the past few years, several wolves have wandered into Colorado from farther north.
According to state wildlife officials, recent activity in Moffat County indicates that a pack of six wolves has chosen to make Colorado their home.
"It is inevitable, based on known wolf behavior, that they would travel here from states where their populations are well established," said JT Romatzke, manager of Colorado Parks and Wildlife's northwest region.
The pack is just another sign of wolf migration to Colorado. One wolf wandered all the way from the Snake River pack in Yellowstone National Park, and his GPS tracker located him wandering through the Rocky Mountains in 2019.
Tom Gable, project lead for the University of Minnesota's wolf program at Voyageurs National Park, was not at all surprised that wolves were making their way into Colorado.
"Wolves travel incredible distances, and they seem to do so easily," Gable said.
Wolves could be coming much faster, if voters approve a reintroduction program.
In November, Coloradans will vote on whether to begin reintroducing wolves into the state starting in 2023.
The initiative's sponsor, The Rocky Mountain Wolf Project, collected 200,000 signatures to get it on the November ballot, and surveys show that two-thirds of Coloradans support a wolf introduction program.
Wolf programs around the Great Lakes and in the northwestern plains have been overwhelmingly successful.
Wolf populations in the northwest, including Wyoming, Idaho, Montana, Washington and Oregon, have grown so much that the federal government is considering delisting wolves from the Endangered Species List.
As of 2015, there were an estimated 1,657 wolves in 282 packs in the northwest region, and more than 4,200 wolves were counted in the Great Lakes region in 2018.
There are a number of people opposed to bringing wolves to Colorado, including the Garfield County board of commissioners.
The strongest voices against wolf reintroduction are typically farmers and ranchers.
"We do not want to have wolves reintroduced into the state of Colorado for many reasons, one of which is that it would be devastating for the moose, elk and deer populations of our state, not to mention domestic livestock such as cattle and sheep," Garfield County Commissioner Mike Samson said in November.
Across the country, wolves account for about 5% of cattle loss due to predators, according to a 2015 report. Coyotes were far more deadly to bovines, responsible for 40 percent of all cattle deaths from predators.
But in states with growing wolf populations, wolves are a more deadly presence.
In Idaho, wolves were suspected in 60 reported cattle deaths in 2016, according to the Department of Agriculture, but that was half the number of suspected wolf kills in 2007.
According to Gable, wolves will eat what's available, but don't always threaten cows.
"We've had some wolves that haven't caused any issues, and they've been around where there have been cows and multiple calves," Gable said.
But, either from hunger or learning it from other predators, if a wolf finds out that cattle are food they will probably come back for more.
"One thing that does seem to be true for wolves that we've studied is that once they figure out how to exploit a food source, they keep coming back to that food source," Gable said. "Wolves are amazing opportunists, and they can find food in all sorts of places, and can take advantage of food in really surprising ways."
Gable said wolves in Voyageurs National Park have learned to hunt and kill fish, and regularly eat blueberries.
Since lone wolves and packs of wolves appear to be in Colorado, the measure strikes some as unnecessary.
"Just as predicted, wolves are making their way into Colorado on their own. This measure is pointless and will only lead to wasted taxpayer dollars and increased bureaucracy," said Chad Vorthmann, executive vice president of the Colorado Farm Bureau.
"The proponents should let mother nature work its magic, stop trying to impose their will on the natural world, and retract their ballot measure," Vorthmann said.
The cost of the wolf program in Colorado, if approved, would likely be around $800,000 for the first two years, as state officials conduct public meetings and develop the plan.
But costs of the program will increase substantially when it begins to be implemented, totaling an estimated $6 million over the first 8 years, according to a Colorado Parks and Wildlife estimate, obtained via records request by the Stop the Wolf Coalition.
CPW estimates that bringing 45 wolves into the state over five years would cost $4 million, including payments to livestock owners for wolf kills.
---
One ranch, 26 wolves killed: Fight over endangered predators divides ranchers and conservationists
Los Angeles Times – By RICHARD READ – SEATTLE BUREAU CHIEF – DEC. 18, 2019 – 3 AM
LAURIER, Wash. —
When Washington ranchers find that gray wolves have attacked their cattle, they can call the state wildlife agency, which has killed 31 of the protected predators since 2012 under a program intended to save vulnerable livestock.
Many ranches have routinely used state-contracted range riders to ward off wolves,which are listed by Washington as endangered even as they have gradually returned during the last decade after being reintroduced in Idaho.
But not the Diamond M Ranch, which has grazed its cattle on federal land near the U.S.-Canada border in northeast Washington since World War II.
Twenty-six of the 31 eradicated wolves were killed after the Washington Department of Fish & Wildlife deemed that members of their packs had attacked Diamond M livestock.
Environmentalists say the ranch not only fails to take preventive stepsto safeguardits herds,but in some cases brings on the bloodshed by leaving cattle near known wolf dens.
Operators of Diamond M deny that's the case, but are vociferous about their rights. The issue highlights a clash of cultures between rural eastern Washington residents and city dwellers west of the Cascade Range who, they and other cattlemen say, don't know squat about ranching, wildlife and predators.
"Seattle doesn't ask us what to do with their homeless, and I don't think we should have to ask Seattle what to do with our wolves," said Bill McIrvin, 50, a fourth-generation rancher in the family that owns Diamond M.
Wildlife department officials acknowledge that Diamond M has declined offers of state-funded range riders who could help protect cattle. But the agency is not required to mandate preventive measures before wolves are shot or trapped, they say.
Gov. Jay Insleehas asked that fewer wolves be killed, but his authority is limited to appointing members of a commission that oversees the state agency. When its director replied requesting more funds and promising to develop a new policy in Diamond M's region by May 1, Inslee said the agency had "not responded with alacrity."
Passions over wolves are running so high that in August, agency officials cited threats of violence in canceling a statewide series of 14 public meetings to discuss management once recovery is sufficient for Washington to end the species' endangered status, as Congress did in 2011in areas including the eastern third of the state. Similar controversy is building in Colorado, where proponents of reintroducing gray wolves submitted signatures Tuesday for an initiative on the state ballot next November, despite opposition from ranchers and state wildlife commissioners.
In Washington, the wolf population had grown to 126 by the end of last year, slowed by the state's efforts to cull those deemed livestock eaters.
Diamond M itself is a2,500-acre spread across a mountain pass from the high school Bill McIrvin once attended. Doffing a cowboy hat and muddy boots by the ranch-house door, he sat for an extended interview recently as his wife, Berta, sporting an anti-wolf T-shirt, served coffee.
The stocky cattleman denied goading wolves to attack. Rather, he said, his business has lost $1 million since 2008 from the killings of 75 to 100 cattle a year by wolves — many times the number that the state has officially confirmed — and from declines in weight and pregnancy rates among traumatized livestock.
McIrvin says the problem is clearly the wolves, not the ranch.
"I don't feel that we have room for wolves in Washington state," said McIrvin, who said his family would continue to oppose what they see as a broader agenda of wolf advocates and officials."If it's allowed to continue, it's going to drive the ranching industry out of Washington, which is what a lot of people want. We're just stubborn, and we won't leave the range."
McIrvin views reintroduction of wolves in the West as a plot to end grazing on public land, much as environmentalists used protection of the threatened spotted owl in the 1990s to preserve Northwest forests.
For centuries in the continental United States, government bounties encouraged trapping, shooting and poisoning wolves, which were wiped out across the West by the 1930s. In 1974, gray wolves gained protection under the federal Endangered Species Act, and in 1995 researchers began releasing wolves to Idaho and Yellowstone National Park in Wyoming.
Gradually, wolves spread into Washington, where they will be downgraded to "threatened" status once breeding pairs have established across the state. There are now about 1,500 wolves in Idaho, Montana and Wyoming. Oregon is known to have 137; California, fewer than a dozen.
Wolf advocates see Diamond M as an extreme example of ranchers abusing public land privileges, and the wildlife agency as pandering to cattle producers and hunters by slaughtering animals it's supposed to protect.
"Year after year, Diamond M reportedly loses cattle to wolves while neighboring producers are able to effectively protect their herds," said Claire Loebs Davis, an attorney for wolf advocates suing the state wildlife department.
In 2012, all seven members of a wolf family known as the Wedge pack were shot, most from a helicopter, after the Washington wildlife department determined that the group had preyed on Diamond M cattle in grazing allotments in the Colville National Forest.
In 2016, the agency spent $135,000 for a gunner and trapper to kill seven members of the Profanity Peak pack, also blamed for attacking the ranch's cattle. Over the next three years, the agency killed a dozen more wolves after Diamond M attacks, including the last four members of a pack just hours before animal advocates won a court injunction to save them.
Court fights continue, waged by Washington environmentalists and the Center for Biological Diversity, a national conservation organization. The group obtained state wildlife agency records linking Diamond M to the 26 "lethal removals" — a number that neither the agency nor the ranch disputes, except to note that in one case wolves were also blamed for attacking other cattle.
Davis views the wildlife department as having been "captured" by ranching and hunting interests. The agency counts on revenue from hunting and fishing license fees, which depend significantly on continued access to private ranch land, she noted.
Jay Holzmiller, a southeast Washington hunter and cattle rancher who served a recent six-year term on the state wildlife commission, countered that politicians in the state's urban areas wield decisive power. "The ranching and hunting community does not have near the influence, nor near the number of attorneys, as … the environmental side does," he said.
Environmentalists say that restoring the apex predators at the top of the food chain helps revive ecosystems, bringing back songbirds and salmon. They say wolves cull unnaturally large herds of hoofed animals, known as ungulates, allowing vegetation to return, and boosting bird and fish habitat.
"Wolves are what make the wild wild," said Amaroq Weiss, the Center for Biological Diversity's senior West Coast wolf advocate, who sees them as crucial to the evolutionary process in which the fittest survive. "If you love ungulates, and how athletic and fast and muscular they are, you have wolves to thank for that," she said.
Weiss toured a Diamond M federal grazing allotment last month with Tim Coleman, executive director of the local Kettle Range Conservation Group. They drove into thick woodlands in the Colville forest where the ranch has grazed cattle since 1943, much of that time with no threats from wolves.
Last summer, Diamond M paid $4,177 to graze 736 pairs of cows and calves on 80,000 acres, an arrangement Coleman called "cheap babysitting." He said that one way to prevent cattle from being attacked would be to move them out of deep forests ideal for wolves and onto pastures where they could be readily monitored.
To Travis Fletcher, Colville National Forest district ranger, the solution is to move more quickly to kill wolves that prey on cattle. "By doing it soon enough, you remove the offending wolves that probably killed those livestock," he said.
The state wildlife agency is allowed to kill wolves after three attacks on livestock in 30 days, or four in 10 months. Officials say they also consider whether shooting or trapping wolves would jeopardize recovery of the species, and whether the cattle owner has used nonlethal measures to prevent attacks.
Donny Martorello, the department's wolf policy lead, said Diamond M has taken precautions, waiting to turn out cattle for grazing until fawns and elk calves are born in the area, providing wolves with a wild food source.
But he said that range riding is "one of the places we'd like to see improvement," acknowledging that last summer, Diamond M declined riders offered by the wildlife agency. The agency recommends riders to help keep cattle apart from wolves and to remove dead or ailing cows that attract predators.
Coleman and other environmentalists suing the agency accuse Diamond M of keeping salt blocks near a wolf den, causing cattle to swarm around it. Davis, the wolf advocates' lawyer, said internal agency documents show that qualified range riders have never patrolled a Diamond M allotment where attacks occurred.
McIrvin, at Diamond M, contends that "government-sponsored range riders … have never once protected a cow or a calf."
But range riders counter that they indeed make a difference.
Jan Wright has patrolled on horseback in areas near Diamond M's federal grazing allotments, safeguarding cattle belonging to five other ranches. Her territory has included parts of the Colville forest, where about 10,000 cattle grazed last summer from 34 livestock producers including Diamond M.
Contracted by the wildlife agency, Wright works to deter wolves by hanging up cloth strips and carrying a gun that shoots whistle flares. She removes dead and injured cattle that might attract carnivores. And she outfits cattle with cowbells.
"When they wear bell collars, it sounds like the cavalry are coming," Wright said. "The ranches that I've been riding for in the last few years have not had wolf kills."
---
Supporters, farmers at odds over reintroducing wolves to Colorado
Posted: 6:56 PM, Dec 12, 2019 Updated: 12:54 PM, Dec 13, 2019
Editor's Note: Denver7 360 stories explore multiple sides of the topics that matter most to Coloradans, bringing in different perspectives so you can make up your own mind about the issues. To comment on this or other 360 stories, email us at 360@TheDenverChannel.com . See more 360 stories here.
DENVER — Colorado voters could soon decide on whether wolves should be reintroduced to the state. This week, proponents of the idea turned in more than 211,000 signatures to get the issue on the statewide ballot for voters to decide.
If the signatures are approved and the ballot initiative is allowed to move forward, it would be the first time in state history voters are allowed to decide about an animal's reintroduction into the wild.
However, opponents of the idea believe there are long-term economic and environmental consequences that aren't being considered with this initiative. Denver7 went 360 to explore multiple perspectives on the issue.
The case for reintroduction
For centuries, wolves roamed North America in large populations. However, in the 1900's, the animals were nearly hunted out of existence by humans. In the 1940's, Colorado said goodbye to its last wild wolf.
By 1983, the number of wolves got so low that they were added to the U.S. Endangered Species list, offering the dwindling numbers protection by the federal government and preventing hunting from humans. Thirty-six years later, the wolves remain on the list. However, some areas like the Northern Rocky Mountains have chosen to delist them .
Supporters of reintroduction say humans are the reason these animals nearly faded from existence and it's up to humans to fix the problem.
"Right now, every wolf that we bring down here to reintroduce and their pups are extremely precious," said Rob Edward, the president of the Rocky Mountain Wolf Action Fund.
He believes bringing these wolves back to Colorado could help restore the balance in the state's ecosystem.
Joanna Lambert, a professor of environmental studies at the University of Colorado Boulder who supports the idea of reintroduction, says bureaucracy has stopped the reintroduction of these wolves in the past.
"This is the first time ever in U.S. history where the reintroduction and the restoration of an endangered species has been done via a democratic process and not via the U.S. Fish and Wildlife Service," Lambert said.
Supporters canvassed the Western Slope, in areas where ranchers would be most affected by the reintroduction of this population, and say many people support it there.
"We know from polling that people on the Western Slope support wolf reintroduction by a wide margin," Edward said. "This is not a Front Range versus Western Slope issue or rural versus urban issue."
The case against reintroduction
While many animal conservation groups support the idea of reintroducing wolves into the wild, ranchers and farmers are worried about what these animals will mean for their livestock and, in effect, their livelihood.
"It's been quite a long time since they've been in the state," said Shawn Martini, the Vice President of Advocacy for the Colorado Farm Bureau. "We don't have to worry about a large Apex predator decimating livestock herds."
Martini says the science simply doesn't support the idea of adding these animals back into the wilderness and it shouldn't be up to voters to overrule the will of experts.
"We think it's really reckless; it's never been done before. We've never re-introduced a species in any state across the country via a ballot initiative," Martini said. "We should let the science lead the way."
Food and agriculture are big businesses in Colorado, generating about $40 billion in economic output as the second largest industry in the state.
Ranchers are afraid wolves will attack their livestock, causing a serious financial impact on families and businesses.
Beyond that, Martini believes the wolves could bring down the wildlife population in the area in a way that would hurt the hunting and tourism industries.
Supporters of the initiative say that while they believe the number of livestock killed by these animals would be very low, they understand the need to help those who are affected negatively by the animals.
That's why there is a section in the ballot initiative that would allow for ranchers to be reimbursed for the losses they suffer due to the reintroduction of wolves.
Edward said the money would come from the Game Damage Fund, which hunters in the state pay for. However, he admits that the details of that are still up in the air.
"Frankly, it's a moot point for us because we're not raising livestock in the state in order to be compensated for losses caused by a species that's not currently here and science says shouldn't be here," Martini said.
Beyond that, he says the reimbursement doesn't cover the money and years ranchers already spent raising the animals or potential future profits.
"It doesn't include compensation for the future calves or lambs that that mother cow or mother sheep may have had," he said.
One of the reasons ranchers dislike the idea of putting the issue up to voters is that the majority of people who will decide the fate of these animals live on the Front Range and in the Denver area, where the wolves won't affect them.
"The people on the Western Slope who are going to have to live with this on a daily basis are going to be out voted by the large population center on the Front Range. We don't think that's fair," Martini said.
That's why they believe that while the initiative is well-intentioned, it's not appropriate for Colorado.
Misunderstood animals
The wolf sanctuaries in Guffey and Sedalia are the only places where people can spot wolves in the state. Guffey's is closing soon and rehoming its wolves.
The people who work at these facilities believe these animals are seriously misunderstood creatures.
"We want to show people that wolves aren't something to be afraid of, they are to be respected," said Mark Johnson, from Rocky Mountain National Wildlife.
Johnson says some of his wolves have even helped detect cancer in people and helped other people with therapy.
Dan Wistrand, meanwhile, has been studying wolves for the better part of 40 years and says there are steps ranchers can take to protect their livestock.
"Degradation on livestock is less than 9% and we take significant steps to reduce that, such as for the rancher training dogs to protect the herd because wolves are very risk averse, they don't want to get hurt," Wistrand said.
They have spent years teaching people about the importance and true nature of wolves and are hoping education is the key to ending misconceptions about these animals.
The Yellowstone study
Scientists have been studying the effects of the reintroduction of wolves into Yellowstone for years. The loss of these animals had a widespread impact on the ecosystem in the area over the years.
"Wolves were eliminated a century ago and, in the absence of a capable predator like wolves, the elk population grew to unprecedented numbers," said Tom Hobbs, a senior research scientist with the Natural Resource Ecology Laboratory at Colorado State University.
As the elk population grew, the animals grazed heavily on willows, significantly impacting their existence in the area.
In turn, beavers could not build dams in the area and beaver numbers went down.
"Without the dams, the streams downcut, and downcut streams are terrible habitat for willows," Hobbs said.
As a result, the ecosystem in the area changed. Proponents of wolf reintroduction in the area thought they would help bring down elk populations and restore willows.
While it's true that the elk population has decreased, Hobbs says the willows have not returned as expected.
"The harm that was done by the removal of wolves has not been reversed by their restoration," Hobbs said. "It really doesn't matter that there are fewer elk now, the habitat conditions for willows have changed such that they can't grow and thrive the way they used to."
Despite this, Hobbs still believes that the reintroduction of wolves on the northern range and in Yellowstone have been a major success story in U.S. conservation efforts, and he supports their reintroduction in Colorado.
"While I wouldn't say it's a quick fix, I would say it's an important fix," Hobbs said.
Hobbs says there is proof over the long-term that ecosystems with a intact food web functions better than those where predators are absent.
Still, for the groups pushing for the animal's reintroduction, he says it's important to understand that wolves are not a silver bullet solution to some of the issues that currently plague the ecosystem.
"It's not a panacea, it does not solve all kinds of problems that have been a long time in making," Hobbs said.
Should wolves make a comeback?
For now, wolves are confined to sanctuaries in Colorado and don't roam wild. Supporters say the ballot initiative would only bring a few dozen wolves to the state in the beginning and would restore balance to an ecosystem humans changed.
Opponents say the move would have economic consequences for ranchers and hunters.
If the signatures are approved, voters could ultimately decide which matters more.
---
Yellowstone releases reports about bears, wolves, and birds
MAMMOTH HOT SPRINGS, Wyo. — Yellowstone National Park recently published three reports from 2018 about bear management, wolves, and birds. Each annual report focuses largely on the health of these wildlife populations.
Topics from the Bear Management Program Annual Report include bear sightings, management of roadside bear viewing, bear mortalities, bear-human conflicts, bear-proof food storage locker installation and more.
"There were few bear-human conflicts inside of the park in 2018," said Yellowstone's Bear Biologist Kerry Gunther. "However, managing visitors that stopped to view and photograph bears foraging in roadside meadows and thus creating large bear jams was a considerable management challenge."
Topics from the Bird Project Annual Report include monitoring of raptors, wetland birds, songbirds and near-passerine, fall migration, raven movements, and noteworthy and rare bird sightings.
Biologist Lauren Walker said, "We used five methods to monitor breeding songbirds in 2018: point counts in willow stands and mature forests, transects through plots in sagebrush steppe, a banding station, and the North American Breeding Bird Survey (BBS). We recorded 35 songbird species within three willow growth types and captured at least 32 species at our banding station in a willow-lined riparian corridor. Observers recorded 24 species in mature forests and 29 species in sagebrush steppe. We also observed over 3,100 individuals belonging to 82 species along three BBS routes in the park."
Topics from the Wolf Project Annual Report include pup survival, wolf pack summaries, and using radio collars to study wolves.
"In 2018 we noted a drop in pup numbers, however there were no intra-species wolf killings, which is usually the reason for the most wolf mortality," said Doug Smith, Yellowstone Wolf Project leader. "This year marks a 10-year period of relatively stable wolf numbers. While the reasons for this are unknown, a relatively stable elk population is likely a large factor."
---
The Rocky Mountain Wolf Action Fund
The Rocky Mountain Wolf Action Fund is nearing the end of its fundraising drive. This effort is time-sensitive. A total of $1,000,000 must be raised by the end of this month, which is only five days away, in order to acquire the 200,000 signatures from registered Colorado voters that it will take to ensure enough "valid signatures" to get wolf reintroduction on the 2020 ballot. Frankly, the effort is falling a little bit short – not a lot, but a little. I don't have the latest numbers, but I believe the effort is a couple of hundred thousand short at this time. We need to help if we want to see this iconic native creature once again live throughout the Rockies of the U.S. Please make a donation now if you can (see below for the link). Thanks!
If the gray wolf is reintroduced into Colorado, it won't be long before it takes up residence in eastern Utah. Here's the good, the bad and the ugly of that prospect.
1. The Good: Wolves belong here. Wolves are good for wildlands and for the wildlife community. The presence of wolves will help generate more interest in and knowledge of wildlife conservation issues in Utah. From a practical point of view, it is not really very hard for people to learn to live with wolves and other large carnivores. Doing so will increase people's appreciation for the land and for wildlife and make them better at conserving both. Our state badly needs this. It is our land and our wildlife. If we don't assume responsibility for ensuring its conservation, shame on us. Then we don't deserve it.
2. The Bad: A Utah-based spin-off from Sportsmen for Fish and Wildlife, Big Game Forever, has been organizing the opposition to wolf reintroduction to Colorado. This is the group that our state legislature has given $7 or $8 million dollars to over the last 7 years to "keep wolves out of Utah" and to undermine protections for the sage grouse. They have a man in Colorado named Denny Behrens working to thwart the reintroduction effort. He has helped organize the "Colorado Stop the Wolf Coalition," but you can be sure that much of the planning and fundraising is being conducted from here – from Bountiful, Utah to be specific. My home town.
3. The Ugly: We ought to face the fact that if wolves do return to Utah they will be persecuted by our state wildlife management agency, which caters exclusively to hunters and ranchers when it comes to the management of large carnivores. They will want to hunt them, same as they do cougars and black bears. We will have to contend with this. You must decide for yourself whether it is worth it. Possibly you are of the opinion that wolves should not return to Utah if they are going to be hunted and killed. I understand this sentiment. Colorado will have to contend with it too. But, as you ponder what is best, please keep in mind the points under "The Good" above. And ask yourself, would it be better if there were no cougars or black bears in Utah because, after all, they are hunted? To me, this doesn't make sense.
Thank you for your attention. Now please visit: https://www.wolfactionfund.com/home
Kirk
---
B.C. predator cull would target 80 per cent of wolves in caribou recovery areas
Randy SHORE / Vancouver Sun
SEPTEMBER 13, 2019 10:11 AM
A five-year program of wolf reduction has turned a 15 per cent a year decline in the population of the Central Group of the Southern Mountain Caribou into a 15 per cent a year increase, according a memo from the B.C. Caribou Recovery Program. Photo from Northern Lights Wolf Centre.
The provincial government is proposing a predator cull that would kill more than 80 per cent of the wolf population in parts of central British Columbia that are home to threatened caribou herds, according to correspondence from the Ministry of Forests, Lands, Natural Resource Operations and Rural Development.
"The objective of this wolf reduction program is to reverse caribou population decline in the Tweedsmuir-Entiako, Hart Ranges, and Itcha-Ilgachuz herds," says a memo signed by Darcy Peel, director of the B.C. Caribou Recovery Program. "To reverse caribou population declines, high rates of wolf removal (>80%) must be achieved."
The Tweedsmuir-Entiako and Itcha-Ilgachuz herds are in the central part of the province, roughly east of Bella Coola and west of Quesnel, while the Hart Ranges herd is near the Alberta border, east of Prince George.
A parallel cull is also proposed for the Itcha-Ilgachuz herd area to "remove cougars that have likely begun to focus on caribou as a prey source."
A 30-day consultation with Indigenous communities and "targeted stakeholders" is underway.
A five-year program of wolf reduction has turned a 15 per cent a year decline in the population of the Central Group of the Southern Mountain Caribou into a 15 per cent a year increase, Peel writes.
A study of 18 caribou herds released earlier this year found that populations stabilized or increased in eight of 12 herds in areas where wolves were culled. Six herds that were not subject to predator removal continued to decline, according to the study led by Robert Serrouya, director of the Alberta Biodiversity Monitoring Institute's Caribou Monitoring Unit.
The Central Group's Klinse-Za herd posted the most dramatic recovery through a combination of predator reductions and maternal penning, in which pregnant caribou and calves are protected by fencing.
Serrouya found that predator management must be applied "intensively" to produce a positive result and that combining strategies such as culls, restoration and safe havens enhanced the effectiveness of recovery efforts.
Serrouya's study identifies predators as a "proximate" cause of caribou decline, while ecosystem alteration is the "ultimate factor."
"Habitat restoration is the long-term piece to this strategy," Serrouya said in a interview. "But if we wait for the habitat to be restored and do nothing else, there won't be any caribou to occupy it."
Several herds in B.C. have already turned around because of this multi-pronged approach, he said.
B.C. is currently rolling out a $47-million caribou recovery plan.
"Wolf populations in these herds are far above the level that research tells us is needed to ensure caribou recovery," the ministry wrote in response to questions from Postmedia. "These herds have reached a critical point, with a combined total of only 801 individual animals. All have had steep declines in recent years due to predation."
The proposed cull was condemned as outdated thinking that ignores the real cause of the caribou decline by a one-time NDP candidate and former conservation officer.
Habitat loss to logging, mining, oil and gas development and roadbuilding is the real problem, said Bryce Casavant, now a conservation policy analyst with Pacific Wild.
"It's not a scientific discovery to say that if we kill the predators, the caribou will do a little better," he said. "What's really happening is that taxpayers are subsidizing inappropriate industrial operations by paying for the cull and the wolves are paying with their lives."
The ministry memo advocates an adaptive management approach to conservation, combining predator management with other strategies and studying their effectiveness as they are applied.
Casavant argued that so-called "science on the go" is intended to support the government's predator management strategy.
"The data shows that habitat loss is the largest agent of decline, not wolves," he said.
---
Great Article on Bison and a free book download!
A very interesting and informative article by Todd Wilkinson in the Mountain Journal: https://mountainjournal.org/the-killing-fields-return-for-yellowstone-bison
The article not only concerns bison, but also elk, wolves, cougars and other species of native animal. Also, there are a couple of interesting videos if you choose to watch them. And, you can download a free electronic copy of a new book on Yellowstone bison.

---
Could Colorado see the return of grizzlies, wolves and wild bison? Here's how Montanans coexist with them.
Up north, grizzlies are roaming in places they haven't been in decades and there are enough wolves that hunters are allowed to shoot five apiece
Up north, grizzlies are roaming in places they haven't been in decades and there are enough wolves that hunters are allowed to shoot five apiecePUBLISHED ONAUG 8, 2019 5:01AM MDTENVIRONMENTPRIMARY CATEGORY IN WHICH BLOG POST IS PUBLISHEDJennifer Brown@jenbrowncolo
The Colorado Sun — 303-500-5821jennifer@coloradosun.comSee more
KALISPELL, Montana — The latest grizzly bear killed by Montana officials was a relatively small, 278-pounder who ate 40 sheep and lambs in a two-week span, unfazed by four guard dogs and a range rider on a four-wheeler who tried to chase it away.
The bear, euthanized July 19 outside of Great Falls, was the 20th grizzly so far this season killed by Montana Fish, Wildlife and Parks or hit by a car or train along the Northern Continental Divide.
The region's human-related grizzly deaths are on par with last year's record-setting season, a result of a growing population of both bears and people. "We've got bears right now in areas where we haven't seen them in decades," said Dillon Tabish, a Kalispell-based education program manager for the state wildlife department.
As Coloradans face questions about whether to reintroduce the grizzly — and fellow titan of the forest, the gray wolf — the state can look to its northwestern neighbors, where the native animals are making a comeback after decades on the brink of extinction. A recently filed lawsuit demands the U.S. Fish and Wildlife Service explore reintroducing grizzlies to Colorado, while a petition about to circulate in Colorado would put the question of wolf reintroduction on the November 2020 ballot.
On their own, grizzlies have returned to the Bitterroot Mountains in Idaho and Montana, as well as the Rocky Mountain Front, where the Montana mountains meet the plains. They number close to 2,000 in the mountains of Wyoming, Montana, Idaho and Washington.
And the gray wolf, with a population estimated at about 300 just more than a decade ago in Montana, has rebounded so dramatically that hunters there complain the wolves are decimating elk and deer populations. Montana now has a hunting season on the once-endangered species — six months long with a five-wolf bag limit.
Wolves number about 850 in that state, and 315 were killed during the most recent hunting season. Still, irritated elk and deer hunters are packing the house when state wildlife officials come to town, protesting that wolves have hampered their ability to stock their freezers with wild game.
As for grizzlies, human encounters have increased enough in recent years that Montana Gov. Steve Bullock this summer created an 18-member Grizzly Bear Advisory Council. The group of citizens, chosen from more than 150 applicants, is tasked with making recommendations about how to keep humans — and bears — safe in bear country.
The panel comes a few months after a man teaching a friend to hunt was mauled by a grizzly near Columbia Falls in northwest Montana. Anders Broste told Montana Public Radio he fell on his back while trying to get away and the bear got on top of him and started biting and tearing his arm and leg. He survived because the griz ran away after trying to pull off his boot.
Three years ago, in June 2016, U.S. Forest Service law enforcement officer Brad Treat was mauled to death by a grizzly bear, also in northwestern Montana, when he rounded a curve on his mountain bike and collided with the bear, which was startled and attacked him.
Any effort to reintroduce large carnivores to areas where they haven't lived in decades is met with fear — fear of human injury or death, and fear that a protected species could bring greater restrictions in logging, mining and access to public lands.
"It's really important to have the public invested and involved in the management," Tabish said. "If you just force it upon people, it doesn't end well. History has shown that recovery requires the public's investment. You can't just put grizzly bears on the landscape. You need to have public tolerance."
But fear of the grizzly, which can weigh more than 1,000 pounds, is part of the fascination.
It's one of the reasons millions of people drive to Glacier National Park every summer hoping to see one — from a distance. Hiking without bear spray, which only works within about 15 feet, is not recommended, and trailheads often are marked with a bright-red sign picturing a hump-backed, brown griz and an alert: "Do not approach or feed."
Would grizzlies move to Colorado on their own?
It's highly unlikely that grizzlies would return to Colorado on their own, crossing highways and moving across populated flatlands, said Andrea Santarsiere, a senior attorney for the Center for Biological Diversity.
The group filed a lawsuit in June asking the U.S. Fish and Wildlife Service to initiate research regarding reintroduction of grizzlies to places they once roamed, including the San Juan Mountains of southwestern Colorado. The last grizzly documented there was in 1979, when an outfitter leading a hunting trip stabbed it to death with an arrow.
"We are not proposing right now that we should introduce them tomorrow," said Santarsiere, who lives in Idaho and spends weekends hiking in bear country, bear spray strapped to her backpack. "We're not looking at dropping grizzly bears in Denver proper."
Grizzlies were listed as a threatened species in 1975 in the lower 48 states (Alaska and Canada have robust populations). A grizzly bear recovery plan identified six zones in the lower 48 states, places the bears still lived or had lived most recently:
The Northern Continental Divide, including Glacier National Park and northwest Montana, which now has an estimated 1,000 grizzlies
Yellowstone National Park and its surrounding area, with an estimated 700 to 800 grizzlies
The Cabinet-Yaak in extreme northwest Montana and Idaho, which has 50 to 60 bears
The Selkirk Mountains of northern Idaho and eastern Washington, with an estimated 50 to 80 bears
The Bitterroot Mountains, mostly in Idaho but also Montana, an area that is just starting to see evidence of the grizzly's return
And the North Cascades of Washington, which officially has no bears (although there have been reported sightings) but is the subject of a reintroduction plan now seeking public comment
Grizzlies once roamed from Alaska to Mexico, from the West Coast to the Great Plains, and numbered in the tens of thousands. Today, there are an estimated 2,000 in the lower 48 states, limited to those five, isolated zones.
While the populations have increased significantly in recent years, exceeding the bar set by federal wildlife officials for some areas, "recovery is more than just reaching a certain numerical population," Santarsiere said. The Center for Biological Diversity wants the grizzly populations to connect, not live in isolated areas, for the genetic health of the bears.
Restoring native animals to the landscape for future generations
On a recent July day, Wayne Kasworm, a U.S. Fish and Wildlife biologist and grizzly expert based in Libby, Montana, had crews in the woods measuring this summer's huckleberry crops. It's a decent season, which means the bears should have a good amount of food.
Kasworm's also got biologists collecting grizzly bear hair samples caught on tree branches as part of a genetic testing program to count the bears and see whether they are healthy. Several bears in the area are radio collared, so he can track their movements.
Natural migration is possible — he's seen it happen with grizzlies moving down from Canada, and into the Bitterroot range in Idaho — but not as far of a trek as from Montana and Wyoming to Colorado. Healthy grizzly populations expand their range by small amounts each year — a chart showing their growing range looks like ripples in a pond.
"I don't see that happening in my lifetime," Kasworm said. Young male grizzlies often roam far from their mothers when they set out on their own at about 2 years old, but female grizzlies typically stay on their mother's range or adjacent to it, he said. "Obviously, you need both sexes to create a population."
Even human-led reintroduction is a slow process, he said. To supplement the grizzly population in the Cabinet Mountains of Idaho and Montana, Kasworm and team have transferred 22 animals since 1990 from the backcountry of the northern Contintental Divide.
Federal proposals to reintroduce grizzlies to the North Cascades in Washington, as well as a reintroduction plan for the Bitterroots a decade ago that fizzled out, called for bringing a minimum of 20 animals to start.
During a previous public comment period about the North Cascades proposal, those opposed to the reintroduction said federal officials should allow repopulation to happen naturally and spend tax dollars elsewhere. Others noted that if any grizzly left the designated recovery zone, authorities should return them deep into the mountains, and that ranchers should have permission to shoot bears if they threatened their livestock.
Because grizzlies are a federally protected species, it's illegal for ranchers to kill them. Instead, they are supposed to report a problem bear to wildlife authorities, who can relocate or euthanize the bear.
"When you have more bears and you have more bears expanding their range, … and people haven't experienced bears in their lifetime, … we have more livestock losses," Kasworm said.
Reintroduction makes sense in some areas, but not in others, he said, noting that it's not realistic to expect a return to the days when grizzlies roamed the entire West. Government intervention must strike a balance between wildlife preservation and human progress. "We seek to keep those things on the landscape not only for us but for future generations, rather than us making choices today that might be irreversible," Kasworm said.
What about the wolf that wandered down from Wyoming?
A lone gray wolf, an animal gone from Colorado since 1940, strode into the state last month, raising the hopes of some that the species might return.
That's unlikely anytime soon, Wyoming wildlife biologists say. The male wolf that roamed into Colorado wore a radio collar, so officials could see that he was part of the Snake River pack in Wyoming.
It's not unusual for a young male wolf to travel several hundred miles looking for new territory, said Sara DiRienzo, public information officer for the Wyoming Game and Fish Department. He's unlikely to stick around, though, if there are no female wolves. "It takes two wolves to breed," she said.
In Wyoming, the gray wolf has bounced on and off the endangered list for 40 years, and was delisted again two years ago. Wolves have exceeded the population goals set by federal wildlife officials, numbering 286 at the end of 2018.
Most of the wolves are in northwest Wyoming, and there is a hunting season on wolves — one per person — in a trophy game management area. If wolves leave that area, they are considered predators and can be shot without a hunting license. About 40 wolves were killed by hunters last season, and another 40 were shot as predators.
Wyoming officials were thrilled when the animal was delisted and moved under state management, allowing state officials to work with ranchers on wolf policies.
In Montana, Gov. Steve Bullock, a Democrat now running for president, knows the political potency of the wolf issue.
"When I was running in 2012 for governor, I probably heard more about wildlife than I did taxes and education," he told The Colorado Sun in July when he visited Denver for a campaign stop.
Returning to a frequent joke, he added: "There's two ways to become a wildlife biologist: one is to get your master's or Ph.D., the other is to run for office. And I think I see that time and time again."
What's his advice for Coloradans who might get to vote on the return of the wolf next year?
"I won't tell Coloradans what to do, but it has worked pretty well in Montana," he said.
Could Colorado reintroduce wild bison too?
Colorado has a thriving bison herd on public land north of Fort Collins, and another at Rocky Mountain Arsenal, but that might be as close as the state ever gets to restoring the iconic beasts to the plains.
At Soapstone Prairie, a preserve owned by the city of Fort Collins and Larimer County, the bison herd has grown from just 10 animals to 77 in less than four years. Most of that occurred through natural breeding, said Jennifer Barfield, an assistant professor with Colorado State University's biomedical sciences department.
The bison are descendants of the herd in Yellowstone National Park, the largest herd in the nation in which there is no evidence the animals were bred with cattle. "From a cultural perspective, that makes them very valuable," Barfield said. And unlike the Yellowstone bison, the Colorado herd is free of brucellosis, a nonnative bacterial disease that is found in about 60 percent of female bison in Yellowstone, according to the National Park Service.
Most bison living in Colorado these days are on ranches, raised for human consumption. And even the few herds kept for conservation purposes — including those at Soapstone Prairie — are not exactly free.
A wildlife-friendly fence surrounds the animals, though they are left on their own to breed, become prey for wild predators (though that hasn't been an issue) and graze the natural grasses. Biologists feed the animals only when severe drought hampers food supply, Barfield said.
"They are living off the land. They are moving at their own will," she said. Still, they are a managed herd.
The preserve has given bison to zoos in California, New York and Minnesota, and to Native American tribes trying to restore wild bison on their lands.
Other parts of North America, including Alaska and Canada, have reintroduced wild bison that roam free without fences. There are no such plans in the works for Colorado, though.
For now, knowing the bison are thriving in the state — though not completely wild — is enough, Barfield said.
"We live in this very urban environment. We have social media. We have all of these not-natural things that bombard us in daily life," she said. "So being in a place where you feel like you are closer to the earth in general is important. Knowing that those places are out there, I think it's a bit of a romantic idea for people."
It's part of the reason, she figures, that some people want to restore native species — including the grizzly and wolf — to the landscapes they once walked. "People are recognizing the value of it," Barfield said. "The health of our population depends on the health of our environment as well."
Colorado Sun reporter John Frank contributed to this story.
Lassen's Famed Wolfpack Grows with a New Litter of Pups
By: Active Norcal – July 14, 2019
The Lassen Pack, California's only known wolfpack, has grown recently with the announcement of a new litter of pups. It's the third litter from the pack that wolf specialists have recorded this year alone.
California Department of Fish and Wildlife wolf specialist Kent Laudon, who is based in Redding, made the announcement at a recent meeting of the Wolf Stakeholder Group.
"We still don't know how many there are." Laudon said. "We've got cameras out and we think there are at least three."
Some wolf pups of the recent litters have died, while others have dispersed to other areas. Specialists are continuing to attempt to track the pack to better understand its size and movement tendencies.
"We're going to try and collar one or two more wolves in the pack now, and then we'll have better ideas on where they are headed and see what's happening with other wolves on the landscape."
The Lassen Pack is the descendant of famed OR-7, a wolf that famously traveled from Oregon into Northern California in 2011, becoming the first known wolf in the state in nearly 100 years. The Lassen Pack's father wolf, known as CA-08M, is the son of OR-7.
The only other known pack in California was the Shasta Pack, which mysteriously disappeared in Siskiyou County recently.
The revival of wolves in Northern California remains a controversial topic in rural communities. The fascinating animals diversify the local ecosystems while creating legitimate arguments between conservation and protecting personal property, particularly of cattle on remote ranches.
Island wolf population 'reasonably secure,' says researcher
Forestry practices, not predation by wolves, blamed for reduced numbers in prey animals
A recent wolf sighting in Campbell River raised questions about the animal's conservation status on Vancouver Island, and whether wolves are responsible for reduced numbers of animals including deer and marmots.
Chris Darimont, a leading wolf expert and Raincoast Research Chair at the University of Victoria, says there's no immediate threat to wolf populations on Vancouver Island, and forestry practices, not wolf populations, are to blame for a decline in animals such as deer.
"They're a convenient scapegoat," Darimont said in an interview. "But decades of research… reveal very little evidence that wolves cause declines in prey populations."
Predator and prey systems are largely self-regulating, he said, meaning a decline in deer generally goes hand-in-hand with a decline in wolves.
And even if wolves hunt the Vancouver Island marmot as a "rare meal," it isn't wolves that are at the root of the problem.
A common cause for the decline of both animals is forestry practices, he said.
"The demise of marmots and the decline in deer share a common cause, and that is whole-scale conversion of ancient forests into a series of logging roads and tree plantations," he said. "We should be reconsidering how forests are managed."
As for the status of the grey wolf, the animal has been wiped out throughout the coastal United States, where they used to occur. Their southern limit tends to be Sooke on Vancouver Island and Howe Sound near Vancouver, Darimont said.
Wolves have also lost large areas of range along the built-up areas of eastern Vancouver Island roughly from Campbell River to Victoria, he said.
In other areas, wolves are likely in lower abundance than they were, Darimont said, due to forestry practices that convert old-growth forests into "tree plantations" that support less deer.
Information posted on the website VI-Wilds states that Vancouver Island wolves are a subspecies that's considered endangered and that less than 150 were estimated on the Island in 2008.
However, there's no "immediate catastrophic threat" to wolves on the Island, according to Darimont.
"They are, in the short term, reasonably secure here on Vancouver Island," he said.
Wolves were formerly subject to government-sponsored eradication campaigns and were thought to have disappeared entirely from the Island decades ago, he said, citing a 2010 research paper that he co-authored.
As for the designation of "subspecies," Darimont said few scientists in his field would use that terminology anymore.
He said that wolves are good swimmers known to travel to and from the mainland. This has resulted in a mixing of their genes into an "evolutionarily significant unit."
Wolves often go into populated areas, but cellphone cameras have turned these sightings into news, he said. Recent examples include cellphone footage of a wolf swimming across the Discovery Passage in Campbell River on June 29.
"The difference is these days everyone's connected by social media," he said.
The Ministry of Forests said in a statement that Vancouver Island wolves aren't recognized as a distinct subspecies, and that evidence points to ongoing dispersal of wolves to and from the mainland.
"(T)his has likely resulted in frequent transfer of genes between wolves in these areas of relative geographic proximity," according to the statement.
The grey wolf is considered "not at risk" by the Committee on the Status of Endangered Wildlife in Canada, and its provincial conservation status is "apparently secure to demonstrably widespread, abundant, and secure." The ministry describes the wolf as "widespread and abundant on Vancouver Island."
There are "more than 250 wolves on Vancouver Island at this time and the population is increasing," according to estimates from the Ministry of Forests.
Darimont said in an email it's likely true that more than 250 live on Vancouver Island, but there's "no evidence I'm aware of that they are increasing (or decreasing for that matter)."
_____________________________________________________________________________
Call to Action!!!
Please support the Rocky Mountain Wolf Action Fund!!! Let's bring back the wolf to Colorado and Utah!
Follow this link to donate: https://www.wolfactionfund.com/
Thank you!
______________________________________________________________________________

Mexican Gray Wolves and Northern Gray Wolves
A highly endangered, desert-adapted subspecies of the northern gray wolves, Mexican gray wolves once ranged from California to Texas and as far north as Nebraska. An extirpated native of Utah and Colorado, today Mexican gray wolves number just 114 in the wild in Arizona and New Mexico. Another 30 or so are in Mexico.
Wolves have long been a focus of Western Wildlife Conservancy's work. Director Kirk Robinson and board member Allison Jones served on the Utah Wolf Working Group in the early 2o00s. WWC is part of the Rocky Mountain Wolf Project and Lobos of the Southwest.
Western Wildlife Conservancy campaigned to get public comments, in favor of returning Mexican gray wolves to Utah, to the U.S. Fish and Wildlife Service during their comment period for the Mexican gray wolf recovery plan. Although clearly supported by the science, the final recovery plan released in November 2017 did not include Utah and Colorado in the recovery zone. WWC also campaigned in Arizona and Nevada, generating phone calls in opposition to anti-wolf legislation to U.S. Senators in the spring of 2017.
We continue to inform Utahns on the need to restore both northern gray wolves and Mexican gray wolves to our landscape through our tabling projects and social media work. We want to hear wolves howl in the Bear River Range, Uinta Mountains, Wasatch Plateau, Abajo Mountains, Dixie National Forest, Grand Canyon National Park, and the San Juan Mountains (among other places). Utah and Colorado need wolves. Wolves need Utah and Colorado.
We work with the Rocky Mountain Wolf Project
Would you like to hear wolves howl under the full moon as it rises over Tokewanna Peak in the Uintas or Tukuhnikivatz in the LaSals? Do you want to take part in making it happen? If so, you now have a great opportunity to help.
The Rocky Mountain Wolf Project, which is working toward restoration of the gray wolf to western Colorado, needs to raise $100,000 for the next phase of its effort to educate Colorado citizens about the wolf and to promote the values of wolf restoration. And if wolves are restored to Colorado, there is no doubt that they will soon spread out as the population grows, so that many wildlands of eastern Utah will once again be home to their missing keystone predator: Canis lupus.
There will be many ecological benefits to this rewilding, as well as an enhancement to the wilderness experience. Go to the website below and watch the 1 minute video to find out what it's all about. Then make a contribution. Contributions add up. If 200 people each make a $10 donation, it equals $2000. If 200 people in each of the 50 states do this, the RMWP will have reached its fundraising goal for the next critical phase of rewilding the Heart of the West!
To support the Rocky Mountain Wolf Project, please visit:
https://www.rockymountainwolfproject.org/ourpack?utm_campaign=CrowdFunding&utm_source=