4/6/2020 *Going forward this page will contain scientific (peer-review) level information.
Moffat County wolves open up a new pack of issues
March 1, 2020 – By Dan West – The Daily Sentinel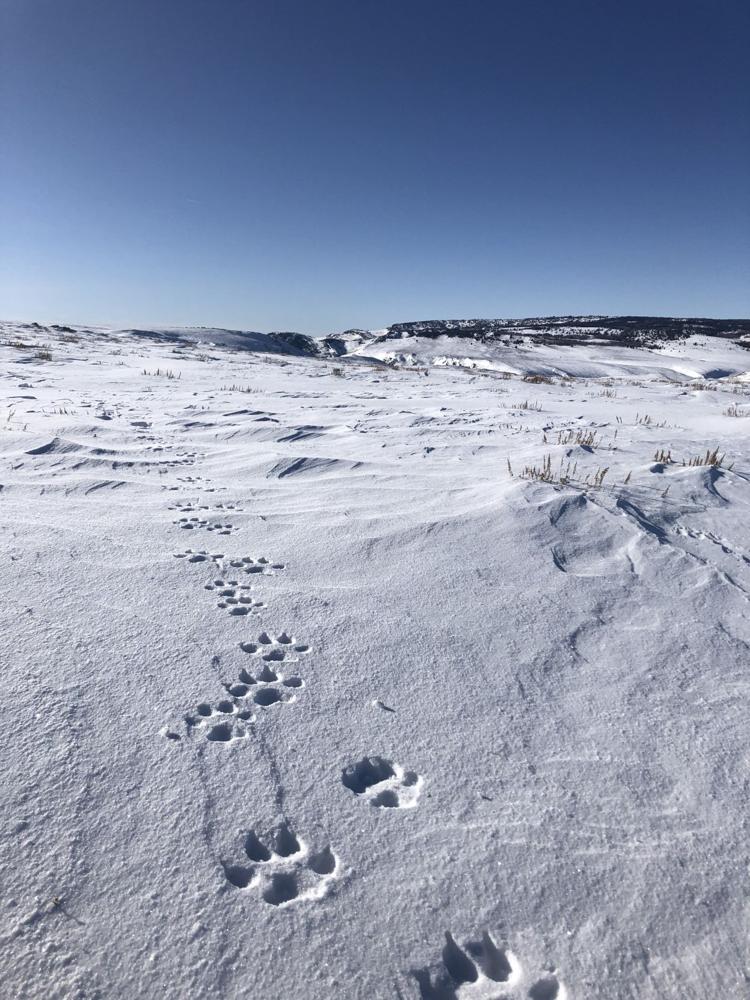 A wolf pack in Moffat County has upended one of Colorado's most controversial wildlife management debates, prompting voters, legislators and wildlife officials to wonder what course to chart on wolf reintroduction and management.
In mid-February, Colorado Parks and Wildlife confirmed through DNA tests on scat samples taken from Moffat County that a pack of at least four wolves was present in Colorado. The four were siblings, three females and one male.
"This is the first time we've documented a group of wolves, a pack of wolves in the state since they were extirpated in the early 1940s," said Eric Odell, wildlife species conservation program manager.
These wolves were confirmed by Parks and Wildlife less than a month after a Colorado petition was certified giving voters the chance to weigh in on wolf reintroduction.
"The pack coming into the state was a real reset in the conversation because, of course, before that the wolf reintroduction conversation was centered around the proposed ballot initiative, which has now gained signatures," said Colorado State Sen. Kerry Donovan, who is working on the issue in the Legislature. "With the pack coming into the state, and with both sexes represented within the pack, we now have a management issue as well that the state isn't perhaps entirely prepared for."
Representatives of the Colorado Stop the Wolf Coalition have said the presence of this pack and its three females that could reproduce will make reintroduction unnecessary. But wildlife biologists say the presence of Craig's newest neighbors doesn't mean a re-established wolf population in Colorado is a done deal.
Another two wolves were observed by Parks and Wildlife staff, but genetic testing on those two has not been confirmed. More scat has been tested, but the full results have not been released. The genetics of those two animals are critical in understanding whether this pack is the start of a full wolf recovery in Colorado or an anomaly.
"It's built into their social system to avoid mating with relatives, so they would not form a mated pair," University of Colorado-Denver Professor Diana Tomback said of the sibling wolves. "The perpetuation of this pack is going to depend on what the genetic relationship is of the other two members."
Tomback, a conservation biologist who served on the science committee of the Rocky Mountain Wolf Project, said there are still too many unknowns to determine the future of these wolves. However, having a breeding pack in Colorado may not be enough for the species to recover, she said, without more wolves to provide genetic diversity.
"If you actually go by the guidelines used by U.S. Fish and Wildlife to determine whether a population is recovered, it has to populate enough range and be there with enough population size to be able to withstand disturbances and challenges that are natural to their environment," Tomback said. "From the perspective of genetic diversity, this one pack is inadequate."
Other wolves make the trek from the northern Rocky Mountains to Colorado, Odell said. Between 2004 and 2019, six gray wolves were photographed or killed in Colorado. More would have to make that journey and find this pack for the population to expand.

"One pack is a start to establishing a population, but it does not meet the (U.S. Fish and Wildlife Service) definition of a wolf population — two or more packs successfully reproducing for two or more years," Odell said. "Genetic diversity is important, and only one pack does not provide that needed diversity."
HOW WOLVES SPREAD
Wolves have spread this way in the past. Gray wolves were reintroduced to Yellowstone National Park and Idaho in the mid-1990s and expanded their populations in Idaho, Wyoming and Montana. Today, more than 2,000 wolves are estimated in those three states.
In the early 2000s wolves started to pop up in Oregon, which sits across the Snake River from Idaho, said Michelle Dennehy, communications coordinator for the Oregon Department of Fish and Wildlife. One was killed crossing a road. Another was found shot. All were lone wolves, known as dispersers, that had left packs to search for mates.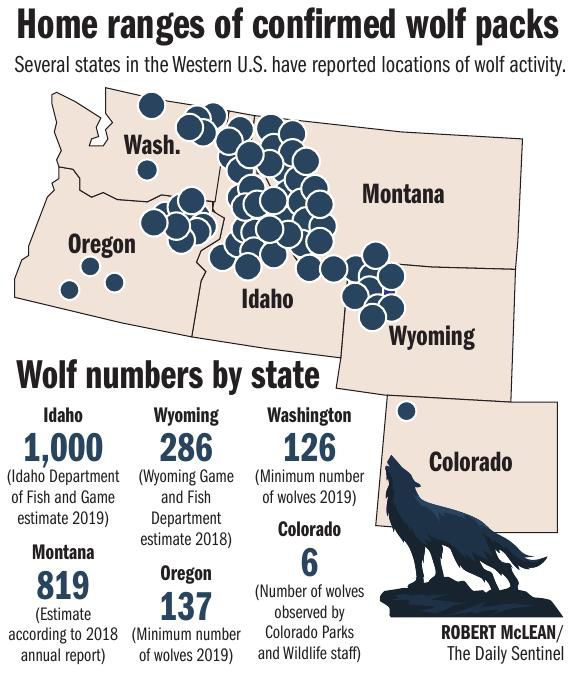 In 2008, a wolf from Idaho crossed the Snake River and gave birth, starting the first pack in the state.
In 2009, Oregon confirmed a second pack, she said. By 2010, both packs were giving birth to pups.
"We didn't do any translocation," Dennehy said. "Everything is here naturally or reproduced naturally and we've gone from, if you just look at the numbers, from 10 in 2009 to 137 at the end of 2019."
Oregon and Colorado are not a one-to-one comparison when it comes to wolf migration though, Tomback said. The major obstacle between Idaho's estimated 1,000 wolves and northeast Oregon is the Snake River. While it is a difficult river to cross, many wolves have done it. According to the latest Oregon Wolf Management Plan, "Radio-collar data shows that dispersing wolves immigrate to and emigrate from Oregon, indicating that Oregon is part of a metapopulation with Idaho and Washington."
THE HARD ROAD TO COLORADO
In Wyoming, wolves in the northwestern portion of the state are managed with some hunting allowed in areas outside Yellowstone National Park. In the rest of the state, wolves are considered a nuisance species and can be killed with no limit, Odell said.
A wolf must make a 120-mile trek from the southern edge of Wyoming's Wolf Trophy Game Management Area through high desert hills, sagebrush seas, canyons and across Interstate 80 to get to the Colorado border. During that trip, by Wyoming law, they can be killed without limitation.
"It is a challenge and this does seem to be the first time two individuals, a male and a female have made it down and found each other and successfully reproduced," Odell, with Colorado Parks and Wildlife, said. "Wolf management in Wyoming, they manage it as a game species in the northwest part of the state and, then outside of that it's a varmint species, so there is quite a challenge for animals to cross that landscape."
Because of the difficulty in crossing through southern Wyoming, Odell said this pack is likely a mated pair that produced pups in or near Colorado.
Denny Behrens, Colorado Stop the Wolf Coalition co-chairman and regional director for Big Game Forever, said this natural reproduction and the known instances of wolves dispersing into Colorado in the past make further reintroduction efforts, like the initiative that will appear on the November ballot this year, moot.
"There's no need for introduction in this state," Behrens said. "They are naturally dispersing out of the nonessential experimental area up in Wyoming and so it's the same thing. They're moving into Washington and Oregon and California."
Tomback said she is skeptical that dispersing wolves will make it to Colorado frequently enough to provide the necessary genetic diversity to ensure the continued survival of the population.
"If people want to reintroduce wolves into Colorado, it's going to take more than waiting for this to happen," Tomback said. "The last 25 years have shown that, yes, individual wolves may disperse and make it down, but they're not able to find another wolf of the right sex and form a pack. So wolf reintroduction, scientifically, the reality is it's going to take some help to get that genetic diversity and to get the numbers down where wolves can form packs with each other."
Donovan has proposed a bill to provide for the reintroduction of wolves, but only after a funding source has been identified to pay for wolf management and reimbursement to ranchers who lose livestock to wolf depredation. It also gives five years for the current wolf population to establish naturally before moving forward with reintroduction.
Donovan said she was pursuing the legislation to take a deliberative approach to the question of wolf management and reintroduction, but she said many unknowns still surround the state's lone pack.
"We will have to see if they settle down in a range, if they reproduce this spring," Donovan said. "Right now, we don't know if we have a roaming pack of teenagers or if we have a group that's looking to settle down in Colorado."
While the first pack in Colorado is historic — being the first to cross that hostile terrain, find each other and perhaps settle here for good — they are only the start of what could mark the first return of a real population of wolves in the state in 80 years, Odell said. Whether through human reintroduction or from wolves dispersing from the north, the formation of more packs will be needed if wolves are going to once again range widely throughout Colorado.
With a ballot initiative coming in November, a bill proposed in the Senate and at least six wolves wandering through northwest Colorado wilderness, Donovan said looking into all the issues wolves represent is now more important than ever.
"We have wolves in Colorado and we suspect that delisting could come out of D.C. sooner rather than later," Donovan said. "I think it is a perfect time to look at these issues in a very thoughtful way with the folks in the room who are most excited about having wolves in the mountains again and what that means and the people in the room who are most concerned about what it means to have a federal land lease and a wolf pack as your neighbors."

---
Maximilian Werner: The senseless treatment of predators in the West
By Maximilian Werner | Special to The Tribune
Given the many challenges we face as humans, it's easy to ignore the non-human world and the plight of other animals besides ourselves. I wonder how many Utahans know about the American West's vicious and unrelenting extermination campaign against predators.
My guess is not many. Because if people knew that thousands of these beautiful and important animals — including cougars, black bears, coyotes, bobcats, foxes, and wolves — are shot, trapped and poisoned every year for people's amusement or at the behest of livestock producers and hunters, I suspect that this disgusting, irrational and senseless treatment of predators would have ended long ago.
One would hope that we would have learned from the extermination campaigns of the past, when many species were extirpated from the landscape to the detriment of entire ecosystems. Unfortunately, when it comes to advocating for the interests of others, humans are notoriously slow learners.
I have long known about Utah's shameful treatment of predators (for example, our misguided coyote bounty program), but not until I began studying wolf and grizzly bear management in southwest Montana, and saw how easily it was for state and federal agencies to destroy these animals for reasons that were arguable at best, that I realized the extent and pervasiveness of this problem.
Now it seems that a day does not go by when I don't hear of some half-baked plan to make it even easier to kill predators.
Just last week a senator from Idaho introduced "emergency legislation" that would allow Idahoans with a hunting license and a wolf tag to shoot wolves year-round in what the bill describes as "wolf free zones." These zones, which will be south of I-84 and the Snake River, sound a lot like Wyoming's "predator zone," which, because it includes 85% of the state, may as well just be called "Wyoming." Any wolf unlucky enough to wander into that zone can, in the words of one wolf advocacy website, "be killed by almost any method, at any time, in any number and without a license."
Similarly, in late December of 2019 Utah's own Sens. Mike Lee and Mitt Romney joined Sen. Rob Johnson, R-Wisc., to introduce S. 3140, the American Wild Game and Livestock Protection Act. If approved, this bill (whose title conflates wild game with livestock) will delist gray wolves nationwide (currently only Montana, Idaho and Wyoming have this distinction) and prohibit judicial review.
If this happens, and delisting becomes the law of the land, we can expect other states to adopt equally barbaric, unscientific and indiscriminate management policies of their own and wolves will again be pushed to the brink of extinction.
More recently, "Rural Person of the Year" Rep. Carl Albrecht, also from Utah, just introduced HB 125, the purpose of which is to boost deer and elk populations by ramping up both the Division of Wildlife Resources' predator control program and trophy hunting quotas of mountain lions, black bears, bobcats and coyotes.
If the reader is wondering if deer and elk populations in are in trouble, the short answer is no. So why HB 125? So that there are more deer and elk for hunters to kill, of course. I don't know about the reader, but I am not persuaded by this reasoning for killing our wildlife.
The news isn't all bad, however. In 2016, California recorded its first wolf pack since the 1920's, as has Colorado just within the last week. A handful of packs have also found their way to Washington and Oregon. A small pack of Mexican gray wolves is trying to survive along the New Mexico and Arizona border. Wolves are all around us. One day very soon they will find their way to Utah. I hope that we do not fail them.
---
WDFW looks at adding to cattle-wolf policy
By DON JENKINS Capital Press – Jan 13, 2020
TUMWATER, Wash. — Washington Fish and Wildlife may add a section on "chronic conflict zones" to its policy on killing wolves, calling on ranchers in hot spots to agree to pre-grazing plans to prevent depredations that trigger lethal control.
Wolf advocates, upset by the culling and eventual elimination of a pack over several years in the Kettle River Range in northeast Washington, are pushing for the addition. The department's Wolf Advisory Group discussed the section Thursday, but didn't conclude its review. The group plans to meet again in March or April.
"I absolutely think we have to have this section. Our community would be really angry with us if we walked away without this," Conservation Northwest policy director Paula Swedeen said.
Fish and Wildlife has shot wolves in the Kettle River Range for four straight years. Gov. Jay Inslee has said that repeatedly shooting wolves in the same territory is unacceptable.
Fish and Wildlife already asks ranchers to take extra precautions to protect their herds from wolves. The department says it shoots wolves as a last resort in places where non-lethal measures have been ineffective.
Stevens County Commissioner Don Dashiell, a member of the advisory group, said he doubts that adding a section on chronic conflict zones would change how ranchers and wildlife managers protect livestock.
"I don't think it would enhance any activities that would take place," he said.
In a draft, Fish and Wildlife defines "chronic conflict zones" as pack territories where the department has killed wolves for at least two straight years.
In those zones, Fish and Wildlife would work with ranchers to "understand the cause of the conflict" and come up with a plan that may include "innovations in non-lethal tools or changes in how they are deployed."
Ranchers and land managers also could line up "reserve grazing areas" to move cattle away from where adult wolves are rearing pups, according to the draft.
A rancher's willingness to follow a plan could influence how long Fish and Wildlife waits before thinning a pack that's attacking livestock, according to the department.
Fish and Wildlife wolf policy lead Donny Martorello said the department still has time to develop plans for the upcoming grazing season.
The plans would assure the public that ranchers and wildlife managers are trying to prevent depredations before using lethal control, he said. "It shines a light on the effort and energy we put into this," he said.
Fish and Wildlife has dozens of advisory groups. The department has elevated the profile of the Wolf Advisory Group, hoping a panel that includes ranchers, hunters, environmentalists and animal-welfare advocates can reach a consensus and rally broad support for wolf policies.
The group met Wednesday and Thursday without making any recommendations to the department.
Some Fish and Wildlife staff members who have to implement policies said they were distressed by the slow pace of deliberations.
Klickitat County rancher Jess Kayser said he too was frustrated. "I don't think anything got accomplished," he said.
---
Competing interests leave Mexican gray wolf recovery efforts at a crossroads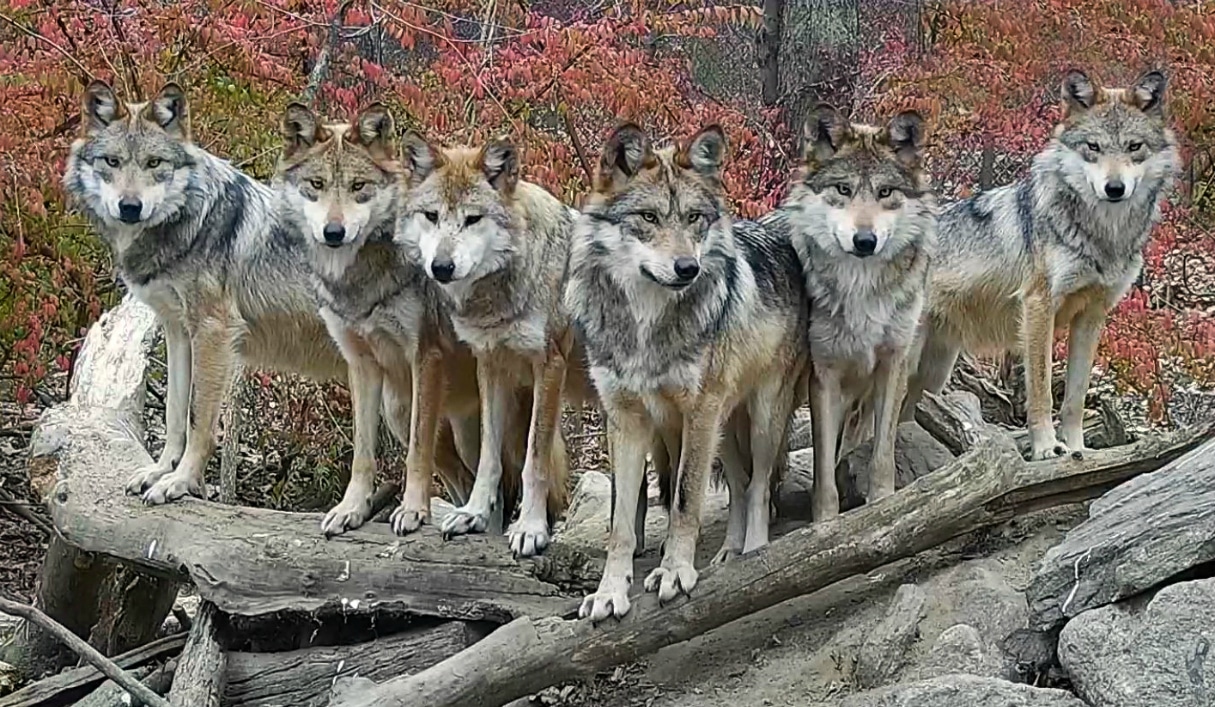 Debra Utacia Krol, Arizona RepublicPublished 7:00 a.m. MT Dec. 30, 2019 | Updated 6:46 a.m. MT Dec. 31, 2019
https://www.azcentral.com/videos/news/local/arizona/2019/06/04/mexican-gray-wolf-recovery-project/1346005001/
Three decades into a troubled attempt to reintroduce Mexican gray wolves to their native habitat, more than 60 leading environmentalists and scientists have called on the U.S. Fish and Wildlife Service to revamp its wolf management plan and, in effect, start over.
In the letter, dated Oct. 16, the groups urged the agency to create an "entirely new approach to management and recovery of Mexican wolves — an approach based on science, acknowledgement of past shortcomings, humaneness, and a precautionary approach to management of a genetically unique and genetically depleted regional subspecies."
The organizations and scientists referred to a March 2018 ruling by U.S. District Judge Jennifer Zipps that directed the Fish and Wildlife Service to revamp its wolf management plan because it "fails to further the long-term recovery of the Mexican wolf."
"Time is running out for the critically endangered Mexican wolves," David Parsons, a retired Fish and Wildlife Service Mexican Wolf Recovery coordinator said in a statement released with the letter.
"This time the Fish and Wildlife Service must get it right — follow the law, follow the science, and push back on the political interference. … The wolves know best where to live and what their ecologically effective population size should be."
The letter is the latest twist in a more than 30-year struggle between environmentalists, ranchers and government agencies over the fate of one of the world's most endangered wolf species. Few people appear to be satisfied with how the recovery effort is proceeding but stakeholders differ about how to change things.
The road to any sort of recovery appears to lead through a widening range of alternatives, including steps to increase genetic diversity and compensate ranchers for their losses, all the while staying within the limits of a government program.
The latest wolf recovery plan, a revision of the original 1982 document, was issued in November 2017. Environmental groups and scientists responded with a lawsuit based on what they say is a flawed plan that ignored the recommendations of experts, including some who helped craft earlier plans.
The environmentalists and scientists maintain that wolves are a critical element of a healthy, thriving ecosystem.
"Wolves are a key species," says Linda Searles, executive director of Southwest Wildlife Conservation Center in Scottsdale. She received the center's first Mexican gray wolf in 1994.
---
Puma Management in North America
---
Livestock producers push back on wolves
By Michael Cox Special to the Montrose Daily Press
Nov 7, 2019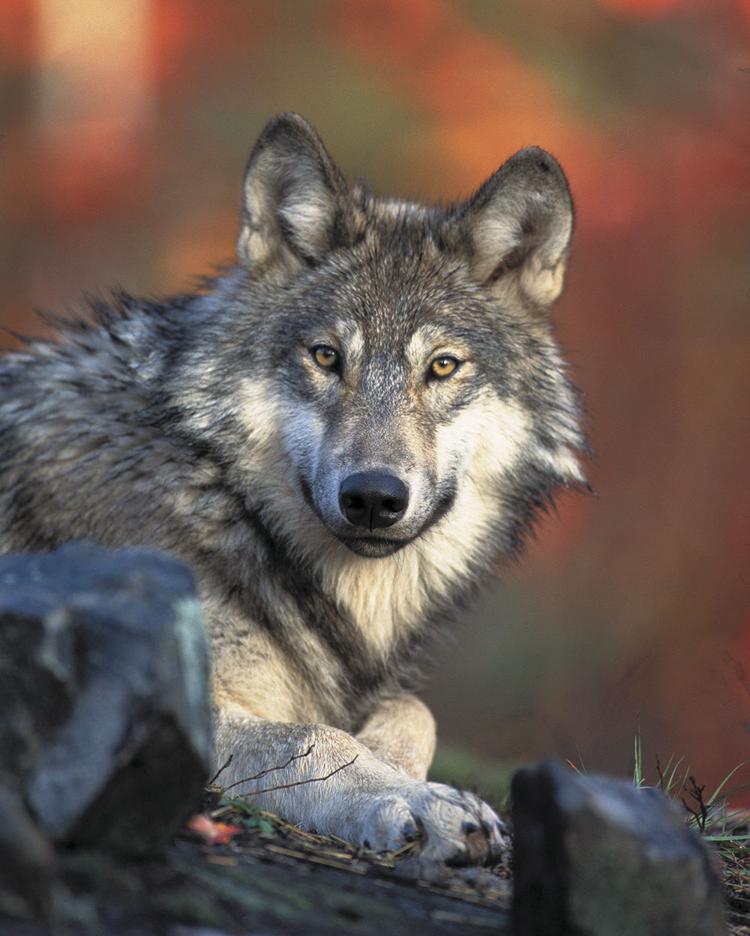 Three major livestock producing organizations in Colorado announced on Monday they have formed Coloradans Protecting Wildlife. The coalition is in the early staging of the pushback against the Rocky Mountain Wolf Project's petitioning for the reintroduction of wolves into Colorado, specifically in the San Juan Mountains.
The three groups are the Colorado Farm Bureau (CFB), Colorado Cattlemen's Association (CCA), and Colorado Wool Growers' Association (CWGA). They announced the formation of an "Issue Committee" against the proposed 2020 ballot measure that would require the introduction of wolves into Colorado.
The organizations represent thousands of livestock producers and farmers in the state. The members of these groups possess centuries of combined experience working on wildlife and land management issues.
Although the introduction of wolves in the state will greatly impact the agriculture industry, the coalition also expresses concerns for the wildlife of the state, which they say will be severely impacted by the wolf plantings.
"Organizations across the state are joining forces and encouraging Coloradans to rethink introducing the wolf," said Chad Vorthmann, executive vice president of the Colorado Farm Bureau. "The decision about whether or not to introduce wolves to Colorado should be guided by science and left in the hands of experts, not the ballot box."
Colorado Parks and Wildlife (CPW) turned thumbs down on the Colorado Wolf Project and the plan to release 50 wolves in the San Juan Mountains in the first phase of a larger reintroduction of the canine predator.
When shunned by the CPW, the wolf group took petitions to the public in an effort to get the matter on the 2020 ballot. Indications are that the matter will attract enough signatures and will appear on the November 2020 ballot. About 160,000 signatures are needed for the matter to go to the vote of the general electorate.
The Rocky Mountain Wolf Project reports 170,000 signings but wants to get 200,000.
"The proposed 2020 initiative would ignore long-standing scientific processes, research and expert guidance by forcing the introduction of the wolf into Colorado without any analysis of the potential negative impacts on Colorado's environment and ecosystems, or its citizens," the new group stated.
"It's far too risky, not only for humans and livestock populations in the state but wildlife as well," said Terry Fankhauser, executive vice president of the Colorado Cattlemen's Association.
"The claim that wolves will create balance for the environment is misleading. Politically-charged wolf introduction ignores the responsible stewardship Coloradans have worked hard to implement."
The idea of introducing wolves to the state is not a new one. The CCA, CFB and CWGA have previously worked with CPW to develop a "free-ranging" wolf plan, including necessary management strategies to ensure gray wolves that enter Colorado from other states are protected, yet do not endanger animals or people that they may come in contact with.
Idaho, Wyoming, Montana and Washington are presently dealing with the conflict between the predators and livestock and wildlife. Losses for wildlife and livestock in eastern Washington became so bad that the Washington authorities had to kill off a small rogue pack of wolves. In Idaho, the wolf problem created a drop in the elk population of 75 percent.
Coloradans Protecting Wildlife intends to educate voters about the pitfalls of wolves introduced to Colorado's landscapes and urge them to leave species management up to wildlife biologists and the relevant state and federal agencies.
"Wolf introduction in Idaho, Wyoming and Montana has had a devastating impact on livestock producers," said Bonnie Brown, executive director of the Colorado Wool Growers Association. "We will fight for our members and do everything we can to protect their livelihood."
Michael A. Cox is a Montrose-based content provider. He may be reached at michaelc@agwriter.us
---
Scientists, Conservationists Call For Sweeping Changes To Mexican Gray Wolf Recovery Plan
By RYAN HEINSIUS• OCT 17, 2019
Dozens of scientists and wildlife advocates are calling on federal officials to dramatically change how endangered Mexican gray wolves are managed in the Southwest. KNAU's Ryan Heinsius reports, it comes more than a year after the current plan was found to violate federal law.
https://cpa.ds.npr.org/knau/audio/2019/10/WOLF1017web.mp3
A federal judge in 2018 ruled elements of the U.S. Fish and Wildlife's wolf management program didn't comply with the Endangered Species Act. The agency has until May 2021 to rewrite it.
Nearly 80 wolf conservationists and scientists sent a letter to the Interior Secretary and wildlife managers, saying they want more captive wolves released, greater range, and higher population numbers, among other changes.
"Under the current rule, the future is in my opinion and the opinion of other scientists, fairly bleak … The Fish and Wildlife Service has dragged its feet on aggressively meeting that challenge of improving genetics in the wild," says David Parsons, a wildlife biologist who signed the letter. He also led the Mexican wolf recovery program when it began in the 1990s.
In a statement, current Fish and Wildlife recovery coordinator Brady McGee says the agency is using the best available science for its revision and will analyze the work through peer review and the National Environmental Policy Act.
At last count, there were about 130 Mexican wolves in the wild. The population has struggled since reintroduction because of illegal killings, lack of genetic diversity and other factors.
---
Letter: Anti-wolf arguments don't add up
An Aug. 28 letter asserts that wolves "have been introduced by the Washington Department of Fish and Wildlife (WDFW)." This is blatantly false. All wolves in this state arrived from Canada or neighboring states to the east via their own feet. It is time for him and others to give up the erroneous notion that this so-called "experiment" is the result of anything other than natural immigration of wolves and that they are somehow different from those that lived here prior to the arrival of European colonists/settlers (truly non-natives). Wolves have not been "imposed on cattlemen by people who live in cities," any more than cattlemen impose T-bones on vegetarians.
I am not an agricultural economist. I will focus on federal lands since that's where most of the wolf-livestock conflicts have occurred.
The letter writer states that "…wolves are predators and have no value." He's got it half right; wolves are predators. The WDFW Wolf Conservation and Management Plan cites four public opinion and attitude surveys conducted in Washington from 2007 to 2009. All reported overwhelming support for the presence of wolves, including the most recent, which noted; "Among respondents living in eastern Washington, most preferred a situation in which wolves become reestablished in many, most, or all eastern Washington counties (68.4%) vs. in no or fewer eastern Washington counties (27.8%)."
Western Washingtonians are just as desirous to have wolves. It seems that times and attitudes have changed since that of his "great grandfathers." I certainly hope so.
Federal grazing fees have not gone up. According to a report by the Congressional Research Service updated in March 2019, fees were $1.35 per Animal Unit Month (AUM; 1 AUM = the amount of forage consumed by a 1000-lb. adult cow and her suckling calf in 1 month). This fee is identical to that of 1985 and has been at that figure for 14 of the past 26 years. In that same time frame the highest fee was $2.11. The fee has decreased each year since 2016. The contention that "…fees have increased" does not hold up.
In fact, federal grazing fees are far below fair market value, amounting to a taxpayer subsidy of ranchers that graze on government-owned lands. The Congressional Research Service also reports that "…most federal agencies charge a fee based on competitive methods or a market price for forage," which the Bureau of Land Management and U.S. Forest Service do not. The report goes on to say that prices in the 11 western states for state-administered 2018 fees ranged from $3.50 (New Mexico) to $65-150 (Texas). Comparable private-land AUM fees ran from $11.50 (Oklahoma) to $39 (Nebraska). Per Washington Department of Natural Resources, one AUM on their land in 2019 sold for $13.80. No matter how one slices it, cattle ranchers on federal grazing allotments are getting their cows' grass for a song.
That's bad business, except for the public-land-grazing cattleman, when one considers that the Commission on Government Operations states that only 2% of the U.S. beef supply is produced from federal land, yet taxpayers ponied up about $100 million in 2014 alone to make up the difference between the government's costs of administering the grazing program and its receipts collected (Center for Biological Diversity 2015). It's likely that eliminating that 2% of beef would have little effect on grocery prices for consumers but would save them hundreds of millions in a short time.
Poking around the Internet, I found that an adult cow eats 113 lbs. of forage per day (https://www.producer.com; I did the math to reduce the amount to the AUM-defined 1,000 lb. cow). I will assume the calf eats, on average, half as much. Over the course of a month that single cow/calf AUM gobbles up just over 2.5 tons — for the low, low price of $1.35. I challenge anyone to feed a 3-ounce pet gerbil for that amount. Yet, if I were to purchase a single ton of mixed-grass hay it would set me back $175 (www.hayexchange.com).
Since the first wolf pack became established in northeast Washington in 2009, cattle producers in Ferry, Pend Oreille, and Stevens counties have received about $690,000 in further direct subsidies from taxpayers (https://farm.ewg.org). And none of that money was for wolf-related issues. When WDFW decides to "manage" wolves, those bills, which are substantial, are also footed by the taxpayer. For 2018 the total was nearly $600,000 for non-lethal activities and range riders, payment of lost livestock claims, and to kill wolves (Washington Gray Wolf Conservation and Management 2018 Annual Report). There is a lot of money going from the paychecks of taxpayers into the wallets of private cattle producers.
University of Montana economist Thomas Power found way back in 1996 that federal public lands grazing contributed "…only $1 out of every $2,500 in income received in eleven western states" and "only 1 out of 2,000 jobs.…" Unfortunately, things have probably become more dire for cattle producers since then as consumers opt for less red meat in their diets and ranchers' children don't stay on the farm, but this downturn cannot be laid at the paws of wolves.
I like a big, juicy beefsteak as much as any cattle producer, and my sympathies to all those hard-working agricultural families, and others, that are struggling economically. Wolves are not, and will not be, the straw/grass/alfalfa that breaks the cattle industry's back.
Jim Holyan
Enumclaw, Wash.
---
Letter: Utah should ban wildlife killing 'contests'
By Paul Zuckerman | The Public Forum in The Salt Lake Tribune; September 24, 2019

Arizona recently banned "contests" that involve people of all ages going out to kill animals, such as coyotes, presumably for entertainment and human gratification or ostensibly for protection of livestock. They join Colorado, New Mexico, California, Vermont and Maryland as states instituting a ban on this activity.
In Utah, a state that prides itself on our humanity at home and worldwide, a state that boasts a high-tech, forward-looking economy, we not only still allow this anachronistic and cruel practice but also spend our tax dollars incentivizing contestants to kill as many animals as they wish and get paid $50 for each living creature they can prove has been dispatched.
Science has proven that efforts at reducing the numbers of these target species not only doesn't cull their numbers but actually increases the numbers and also teaches them to seek food sources that are not naturally found in their environment. In essence, these hunts promote the predation of livestock rather than controlling it.
Children old enough to physically shoot a rifle partake in these contests, with rewards that may include a new gun.
You may agree that family bonding and self-esteem building can be achieved in ways that do not teach children that the life of another species is disposable and that taking that life is a noble pursuit and a healthy way to entertain oneself. If so, you may be interested to know that it took public opinion, in the form of 5,000 letters to the Arizona Fish and Game, to get the ban passed.
The vast majority of our state's population that do not shoot animals. If you are one who does not want your taxes spent promoting killing contests, then go to the Division of Wildlife Resources contact page and express your desires in a brief message. They are charged with managing wildlife for all of us but, to do so, they need to hear from all of us.
Paul Zuckerman, Salt Lake City
---
Mike Phillips – How to Save a Species podcast
"Humans and cockroaches and coyotes are going to inherit the earth."
— Mike Phillips
[Visit tim.blog/wolf for the most important links from this interview and my personal next steps.]
Mike Phillips has served as the Executive Director of the Turner Endangered Species Fund and advisor to the Turner Biodiversity Divisions since he co-founded both with Ted Turner in June 1997. Before that, Mike worked for the U.S. Department of Interior, leading historic efforts to restore red wolves to the southeastern US and gray wolves to the Yellowstone National Park. He also conducted important research on the impacts of oil and gas development on grizzly bears in the Arctic, predation costs for gray wolves in Alaska, and dingo ecology in Australia. These days, Mike is an advisor to the Rocky Mountain Wolf Project.
In 2006 Mike was elected to the Montana House of Representatives. He served there until elected to the Montana Senate in 2012. His service in the senate will extend through 2020.
Mike received his MSc in Wildlife Ecology from the University of Alaska in 1986 and his BSc, Ecology from the University of Illinois in 1980.
Please enjoy by clicking HERE!
---
New research says elk fear cougars more than wolves…and for good reason
Buckrail Aug 7, 2019 Jackson Hole, Wyoming
JACKSON HOLE, WYO – A new study released in Ecology Letters this month highlights how elk navigate areas where more than one predator is present. Specifically, the results suggest elk are more afraid of mountain lions than wolves because cougars are better at killing than canines.
The study begins with the accepted notion that many ecosystems, including the GYE, contain sympatric predator species that hunt in different places and times. The question researchers wanted answered was whether there exist places and times when prey can feel relatively safe, and whether they adjust their behavior accordingly.
What the authors of the study found is that prey, in this case, elk, do indeed minimize threats from multiple predators simultaneously by adjusting their movements to certain types of terrain at certain hours of the day or night. For the most part, elk are able to avoid one predator without necessarily increasing its exposure to the other.
"We tested the extent that elk selected for vacant hunting domains to avoid predation from wolves and cougars in northern Yellowstone National Park," stated lead author Michel T. Kohl. "Wolves are cursorial predators that kill mainly in flat, open areas at morning and dusk, whereas cougars are spot-and-stalk/ambush predators that kill mainly in topographically rugged, forested areas at night. We predicted that elk selected for flat, open areas at night (night-flat and night-open domains), and for rugged, forest areas during daylight (day-rugged and day-forest domains). We studied elk habitat selection in winter when wolves and cougars were the only major elk predators inside [the park] and during a period (2001–2004) when densities of both predators were highest."
Authors of the study said one main takeaway from their research is exposing the false notion that wolves are solely responsible for elk predation or any population reduction.
"We demonstrate how it is perilous to assume that prey habitat selection in a multi-predator environment is sensitive to just one predator species. When wolves were reintroduced to Yellowstone National Park in 1995–1997, they joined a system that was already populated by other predators of elk, including growing numbers of grizzly bears and cougars," Kohl wrote. "Despite this predator diversity, subsequent research and commentary about elk space use in and around Yellowstone have assumed, implicitly or explicitly, that wolves are the only (or primary) predator that elk respond to. Our study is the first to test this long-held assumption, and our results suggest it is false."
The study found strong evidence that elk habitat selection is shaped by the risk of predation from both wolves and cougars. Further, wolf-only models of elk habitat selection performed poorly compared to other models that included male cougars.
"We also found that male cougars, not wolves, exerted the most pressure on elk habitat selection," Kohl added.
Researchers were not sure why male mountain lion activity and not females had the most effect on elk but could not rule out the role females play in elk predation.
Bottom line, researchers say, is their results shed new light on how multiple predators can drive prey habitat selection in a predator-rich environment, and how prey are able to minimize these multiple threats simultaneously.
---
Cattlemen say 'incremental' removal of wolves ineffective
The Washington Department of Fish and Wildlife's incremental approach to thinning a wolfpack in the Kettle River Range leads to a cycle of conflict between wolves and livestock, a cattlemen's group said Monday.
By not removing the entire pack, Fish and Wildlife allows cattle-killing wolves to regroup, reproduce and renew attacks, according to the Stevens County Cattlemen's Association.
"This 'incremental' approach has not worked from the beginning and is still a failed policy," the association's president, Scott Nielsen, said.
Fish and Wildlife Director Kelly Susewind on July 10 ordered the incremental removal of wolves after the OPT pack killed a cow in the Colville National Forest. The department did not say how many wolves it planned to kill, but incremental removal in the past has meant shooting a wolf or two and pausing to see the effect on the rest of the pack.
The department shot two wolves in the pack last year. When depredations continued, Fish and Wildlife planned to kill the pack's two known survivors. The department suspended the operation after a fruitless two-week search in November. Most of the cows were off the federal grazing allotment by then.
The department now says the pack has five adults and at least four pups.
By suspending the operation last fall, Fish and Wildlife left conditions for conflicts to continue this year, said Stevens County Commissioner Don Dashiell, a member of the department's Wolf Advisory Group.
"They should have kept after it," he said. "Just because most of the cattle were gone, there was no reason to quit."
Fish and Wildlife has not provided an update on the current operation.
The department also killed wolves in the area in 2016 and 2017. At the insistence of conservation groups, the department pledged this year to seek "creative alternatives … to break the cycle of lethal removal of wolves."
In this case, the department says non-lethal measures have failed and that it expects attacks on livestock to continue unless some wolves are removed.
The response from environmental groups has been fairly muted. The Center for Biological Diversity did not seek a restraining order to block Fish and Wildlife from shooting wolves, as it has in the past.
Conservation Northwest policy director Paula Swedeen said in a statement that the Kettle River Range was "important grazing lands for local livestock producers, many of whom have been working and stewarding these lands for generations."
"The history of conflict here shows it won't be easy, but we want to see successful coexistence in the Kettles into the future. We are anxious to participate in community-wide discussions of all interested parties on how to end this cycle of loss," said Swedeen, who's on the Wolf Advisory Group.
The OPT pack, also referred to as the Old Profanity Territory pack, has killed at least seven and injured at least 13 cattle since Sept. 5, according to Fish and Wildlife.
Defenders of Wildlife Northwest Director Quinn Read criticized the resumption of lethal removal.
"Wolves are subjected to a vicious cycle in which they are attracted to the region's rich wildlife habitat, encounter cattle on problematic grazing allotments and are killed for the resulting conflicts," she said in a statement.
---
The Psychology of Wolf Fear and Loathing
Why is the wolf, above all other species, including bears and mountain lions, so widely hated and feared?
We frequently hear two explanations for why wolves are so feared, loathed and hated, one being the folklore and fairy tales (Little Red Riding Hood, The Three Little Pigs, etc.) that we inherited from Europe; and one being that wolves kill livestock and compete with humans for wild game.
The problem with these explanations is that they are only the tip of something deeper. They don't explain why wolves were singled out in the fairy tales in the first place. Nor do they explain why wolves are feared and hated more than are other large carnivores, like bears and cougars, that compete with humans for wild game and occasionally prey on livestock. So, while fairly tales and depredation might partly explain why many Europeans and Americans fear and hate wolves, a deeper explanation underlies the animosity. (Also, Europeans seem to be further along on the learning curve than Americans in this respect, as wolves are being allowed to make a comeback in several European countries.)
My conjecture is that the deeper explanation has to do with the fact that wolves are in many ways more like human beings than are any other animal species that we have shared the landscape with – at least since modern humans left Africa. They are very social, just like humans, and live in extended family groups (packs) just as our ancestors did. All members play a role in providing and caring for the family group, just as our ancestors did – at least until injury, sickness or old age becomes disabling. And there is good reason to think that wolves and humans enjoyed a kind of mutualism when humans were nomadic hunters & gatherers, in which they helped each other acquire food. Wolves probably led humans to sources of huntable game, and humans probably left plenty of scraps for the wolves, similar to what we see today in Yellowstone, where ravens lead wolves to game and share in the spoils of the hunt.
Canis lupus bailey © MasterImages
Now, so far this might seem like a good reason for honoring and respecting wolves instead of fearing and hating them. But here's the twist: As humans became more "civilized" and less dependent upon (and hence more removed from) wild nature, they simultaneously developed the idea that they were special – a little lower than the angels, as it were. And with this came a kind of self-hatred and fear of our uncivilized but natural impulses that had to be suppressed in order for civilization to exist. In this connection, I think Freud is illuminating – especially his book Civilization and its Discontents. Thinking in terms of the core Freudian constructs, id, ego, and superego, the job of the superego is to censor the id and keep it under control by means of guilt to suppress anti-social drives and impulses. But at a price: foregone satisfaction – hence the discontent. (Nietzsche, who predated Freud and really should be credited for the idea of the unconscious, referred to "the wild dogs in the cellar" that are constantly clamoring to break free.)
You can probably see where I am going at this point: Everything that we have come to loathe about ourselves, including our tendencies toward aggression and our basic animal nature and various bodily functions ("cleanliness is next to Godliness"), we civilized ones now project onto wolves, since wolves have no compunctions in this regard.
This helps explain why the wolf is equated with Satan in Christian lore – wolves are the enemy of the sheep, just as our base impulses are an enemy to civilization (and more immediately, to one's social identity and acceptance by the flock).
This might also go some distance in explaining why we love dogs so much: they are domesticated wolves, analogous to civilized people with strong superegos. It doesn't go the whole way in explaining why we love dogs so much, I'm sure. But perhaps it at least explains what made it possible for us to love dogs simply for what they are.
This explanation suggests that fear and loathing of wolves is indicative of alienation from and animosity toward wildness (unconquered, untamed nature) in general, as expressed by a compulsive need to try to control it and overcome it. This folly can be understood as the metaphorical meaning of the Biblical story of the Tower of Babel (Genesis 11: 1-9).
Might the foregoing explanation help us learn to coexist with wolves? Can we use it to improve the prospects for the ecologically-critical but socially and politically difficult recovery of wolves across the country? Let's share our ideas through Rewilding Earth, then with our neighbors.
Kirk Robinson
Kirk Robinson is the founder and executive director of the Western Wildlife Conservancy. He lives in Salt Lake City, Utah. Prior to founding Western Wildlife Conservancy, Kirk earned a Ph.D. in philosophy and taught courses at universities in Montana and Utah for 15 years. His favorite activities are exploring the wildlands of the American West and trying to learn to play fiddle tunes on acoustic guitar. Kirk is a charter member of TRI's Rewilding Leadership Council.
___________________
Wolves in the Gros Ventre of Wyoming
Here's a link to an interesting article on wolves in the Gros Ventre of Wyoming which is just south of Grand Teton National Park. If you watch the National Elk Refuge cam, you will see how many elk are there this winter (2019), and if you are lucky, you might catch a glimpse of a coyote or wolf going by! https://www.jhnewsandguide.com/news/environmental/article_28608fb3-4377-5546-aeef-6d7f8500c9d5.html
______________________________________________________________________________
A North American Wolf Vision
Beautiful, strong, and wild, America's wolves once ranged across most of the United States. More than a symbol of wilderness, scientists agree that wolves have kept nature in balance and have helped maintain healthy populations of other important species. But, centuries of hunting, trapping, poisoning, and a government-sponsored eradication campaign had essentially eliminated wolves from the American landscape.
Today, thanks to the safety net of the Endangered Species Act, wolves are finally beginning to recover in wild places and are once again a vital part of America's wilderness and natural heritage. Gray wolves returned on their own to the Western Great Lakes region and northwest Montana and were reintroduced to Yellowstone National Park and central Idaho. We have also returned gray wolves to a small area of the high desert Southwest, and red wolves to a portion of eastern North Carolina.
However, the current restoration efforts by the U.S. Fish and Wildlife Service (FWS) endeavor only to recover small, geographically isolated populations encompassing a relatively insignificant portion of their historic range. And although gray wolves are slowly making their way into places such as Oregon and Washington — and one wolf has made it to California — the FWS has no plans to restore wolves to substantial areas of suitable habitat that exist in places such as the Southern Rocky Mountains, New England and, in the case of the red wolf, the remainder of the Southeast. In fact, the current FWS proposal will strip protections of the Endangered Species Act for all gray wolves, except for the tiny population that is struggling to survive in the Southwest.
If the current proposal is approved, it will allow states to engage in widespread shooting, trapping and poisoning of gray wolves. Any gray wolves attempting to repopulate additional portions of their former range could be heavily targeted for persecution. In the absence of legal protection, these wolves may never be able to establish sustainable populations across much of their suitable habitats.
We envision the return of the wolf to its rightful place in North American wild lands; where humans dwell with increasing respect and acceptance for this wild species. We call for the recovery of wolves across North America, filling their critical roles in nature, and providing hope and inspiration to communities. Such recovery means:
1. Restoration of wolves in suitable habitats across North America, from the Northern Sierra Madre Occidental in Mexico to the Canadian Rockies, and from the U.S. Pacific Northwest and California to the Upper Great Lakes, the Northeast, and the Southeast as well.
2. Protection and restoration of all suitable wolf habitats and the crucial corridors that link these habitats together, at the local, regional, and continental scales, allowing wolves to roam freely across a network of interconnected wild lands.
3. Restoration of wolves in ecologically and evolutionarily effective populations so that they may fulfill their natural keystone role of ecosystem regulation, aiding the continued diversity of native flora and fauna.
4. Increasing Social acceptance and appreciation by humans for the role that stable wolf populations play in reestablishing healthy landscapes across North America.
______________________________________________________________________________
Coyote Fact Sheet
Coyotes are family oriented and very intelligent. They are indeed wily. They possess intelligence, feelings and emotions. They experience pain and grief. They love and care for each other. Native Americans admired and revered them.
Coyotes are much more beneficial than harmful. Coyotes control rodent and rabbit populations, thereby checking the spread of Lyme disease, Rocky Mountain spotted fever, and chronic wasting disease (which is lethal to deer, elk and moose). By reducing rabbit populations, they create more forage for deer, elk, mountain sheep, pronghorns and moose.
Despite this, coyotes are killed by the thousands in Utah and other western states. Utah is one of only two states that has a bounty on coyotes: If you have a dead coyote in hand and can prove it was killed in Utah, you can get paid $50 by the government!
There are also "coyote calling contests" in rural parts of the state, where a small entry fee allows you and a partner to engage in "calling" in and shooting as many coyotes as you can during a period of one or two days. The team that kills the most coyotes, or the largest one, wins a prize, which is typically a piece of hunting or trapping gear. Participants often describe the thrill and sheer fun they enjoy. They think of it as a wholesome activity that actually benefits other wild animals, ranchers and farmers.
Yet random killing of coyotes, as occurs with coyote kill contests, has been shown to not reduce livestock depredation or to increase deer and elk herds. Furthermore, it typically causes compensatory breeding by subordinate animals plus new coyotes migrating to fill the empty niche, resulting in even more coyotes, and hence more predation on deer fawns and sheep. In short, coyote killing has been scientifically shown not to accomplish any legitimate wildlife management or livestock husbandry objective.
Despite their sentience and intelligence, their great beauty and ecological value – despite all these positive values, and despite the total lack of evidence that it does any good – coyotes have no legal protection in Utah and other western states. A license is not needed to kill them and there is no bag limit. Nor are there any special restrictions on how you can kill them: guns, fire, rat poisons and neck snares – all are legal. The only thing that is illegal, it would seem, is allowing coyotes to go about their lives unmolested.
Given all these facts, can coyote kill contests possibly be moral? Is killing intelligent beings for fun a moral activity?
If you learn about a planned coyote kill contest (sometimes referred to as derbies or calling contests), please contact bob@westernwildlifeconservancy.org – or kirk@westernwildlifeconservancy.org
Carnivores
Mexican Gray Wolves
What Good Are Large Carnivores?
There are many good reasons to care about carnivores. The very term means 'meat eater' and they do kill and eat other animals, which can arouse fear and loathing in some people. Trout and praying mantises also kill and eat other animals, by the way. Praying mantises could just as well be named preying mantises.
But when we are talking about biological classification, 'carnivore' is the term for an order (order, family, genus, species): it designates mammals with carnassial teeth. Carnassial teeth are the pairs of teeth on the sides of the jaw where molars appear in humans and deer. Rather than the top carnassials falling flat onto the bottom ones, they overlap the bottom ones like a pair of scissors – good for cutting meet, hide and sinew.
Thus, bears, which are actually omnivores, are classified as carnivores because they have carnassial teeth. In reality, most bears eat mainly vegetation, such as grass and tubers and pine nuts. Coyotes too, unlike their cousin the wolf, eat a lot of vegetation and even garbage. That's one reason they do so well living near, and even in, our cities. I heard coyotes yipping in the middle of the day while walking Luna dog in lower City Creek just yesterday. So did Luna, and it really caught her attention.
Back to the question: Why protect and conserve wild carnivores? Here are some of the main reasons.
Cougars and wolves are especially good at keeping ungulate herds healthy, as they tend to remove the least healthy animals. Wolves are in fact very much analogous to the white corpuscles of our own immune systems, in that they key in on sick and feeble animals and remove them from the population. This could be especially important when a disease such as the encroaching chronic wasting disease (CWD) begins to affect herds of deer and elk in the Rocky Mountains, as has already begun to happen. Cougars, too, have been shown to focus preferentially on deer that have CWD.
Mesopredators, such as the coyote and the bobcat, do much to keep rodent populations under control.
Cougars and wolves in particular also keep prey populations within the carrying capacity of the habitat. You may recall that Aldo Leopold warned Arizona game managers not to kill off all the cougars and wolves on the Kaibab Plateau, but they did so anyway, hoping it would result in more deer. And did it ever – with devastating consequences. In fact, this was the main scientific justification for reintroducing wolves to Yellowstone. The elk herd had grown way beyond carrying capacity and was wreaking havoc on the land and its wild denizens.
Think of large wild carnivores as the evolutionary dance partners of wild ungulates. They shaped each other into what each now is through the long eons of evolution. They belong together. They need each other. Now we are beginning to "think like a mountain," as Aldo Leopold put it in a famous essay by that title.
Add to this the fact that cougars, bears, wolves, bobcats, coyotes, lynxes, fishers, otters, martens, foxes and wolverines are just plain beautiful animals. And the stories of their lives are fascinating.
Large carnivores are always fewer in number than the species they prey upon. Thinks of the shape of the food pyramid. In all of Yellowstone National Park, at any given time there are only about 75 wolves and only about 25 cougars – all in an area that is roughly 3600 square miles. That's one large carnivore for every 36 square miles – hardly too many. Adult animals need large home ranges.
Thus, protecting and conserving large carnivores requires protecting and conserving large areas of habitat, which not only results in protection and conservation of the carnivores, but of all the other species of plant and animal that live there as well. For this reason, large carnivores are sometimes referred to as "umbrella species".
Large carnivores have been heavily persecuted since the first pioneers settled the West. Indeed, the wolf was entirely eradicated from the Western U.S. by about the mid-1930s. Only in the late 1960s were cougars finally removed from the list of vermin and given the status of a protected species in the Western states (which, outside of Florida, were the only ones that still had populations of cougars). Now, with the sole exception of Texas, all states west of the Mississippi River that have cougar populations require a permit for hunting them. California has gone a step further and completely outlawed the hunting of cougars. If a cougar kills your goat, you have to get a special "depredation" permit to kill that specific cougar. Only 100 or so cougars are killed on depredation permits in California each year. Last year, Utah killed 400 cougars.
Western Wildlife Conservancy is a small organization, and the only one in the state of Utah whose mission is to resist the regressive forces of carnivore oppression and persecution that are very strong here – a state where the largest convention of the year is now the "Hunting Expo" which caters mainly to trophy hunters. We will keep on doing our best to educate folks on the importance of carnivore protection and conservation, and to advocate for these wonderful creatures.
Coyotes
Coyotes in Utah are treated as vermin and can be killed at any time. In
designated areas of Utah, the state government offers a $50 bounty on
coyotes in a dubious effort to increase mule deer populations. 
Coyote hunting contests are held near towns like Beaver, Utah. Western
Wildlife Conservancy works to expose the barbarous treatment of coyotes and
promote co-existence.

Black Bears
Black bears in Utah are subject to being chased with hounds. Hunters set out
bait to attract bears. Orphaned bear cubs are sometimes left behind to
starve. Hardly anyone eats bears. A desire for a trophy on the wall is no
excuse for killing bears. Western Wildlife Conservancy testifies before the
Utah Wildlife Conservancy annually to reduce and finally eliminate trophy
hunting of bears.

Cougars
Cougars are hunted in Utah, sometimes with hounds. Cougars are an important
apex carnivore keeping nature in balance with their interactions with prey
species. Like black bears, hardly anyone eats cougars and there is no excuse
for hunting cougars. Cougar conservation has always been a major focus of
Western Wildlife Conservancy.

Wildlife Management Reform
Most Western states have atrocious wildlife management policies. State
wildlife commissions and boards are almost all captured by trophy hunting
and agricultural interests. "Non-consumptive" wildlife watchers and people
concerned about ecological integrity have little to no representation on
decision-making bodies. Ideas about managing wildlife as a "public trust
responsibility" and heeding the "precautionary principle" when faced with
uncertainty are alien to these agencies' 
practice. Western Wildlife Conservancy is taking the lead in organizing
wildlife protection advocates across the West to reform wildlife management
so it is democratic, ecologically responsible, and humane.